Hated Bruit Kollektiv – Aktion One CD
6 March 2011
xdementia
No Comment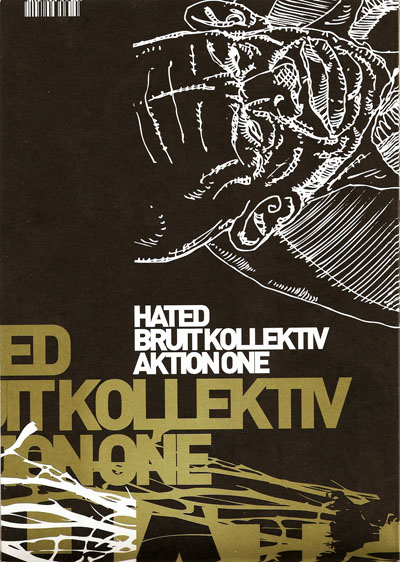 Hated Bruit Kollektiv – Aktion One CD
HBK is an ephemeric project held among musicians behind Genetic Transmission, Moan and Nojsens. Aktion One seems to be the groups first release and is a surprising collage of harsh noise, musique concrete, electroacoustic and industrial/dark ambient. The release is packaged in an enormous and well designed poster on heavy matte paper.
Quite lush and intense it really sounds like all kinds of sound sources are used here. Field samples, digital processing, distortion, collage work combined with heavy metallic clanking and even some human voice buried in the mix somewhere there. Noisier elements build over a period of several minutes to eventually fall into interludes of strange and incomprehensible samples. Propeller-like noise shifts backed by cut up samples of patriotic hymns from some unknown post-soviet states.
The atmosphere and concept seems to be paying homage to great European movements such as bruitism – ok that one is a given – to aktionism, perhaps there's even some dadaism thrown in there for good measure. The track moves quite effectively from one element to another by continually introducing an eclectic array of sounds while consistently keeping the textures quite dense which eventually ties together the release sonically to elicit a feeling of much needed comprehensiveness.
At times the production feels just a little lacking but overall this is a fascinating journey through Europe's 21st century post-modern dilemmas. The artists are trying to find their voice, but once it's found they must quickly move on to the next situation which has arisen. Certainly a thought-provoking work.
| | |
| --- | --- |
| Composition: | |
| Sounds: | |
| Production Quality: | |
| Concept: | |
| Packaging: | |
| Overall Rating: | |