EE04: XIPHOID DEMENTIA – REHEARSALS FOR EXTINCT SONORITIES DVDR
13 December 2009
xdementia
No Comment
*DELETED*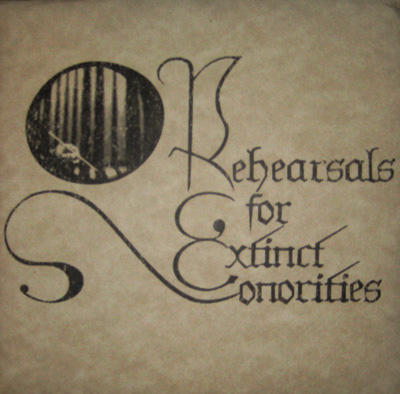 Rehearsals for Extinct Sonorities is an alternate aural interpretation of the masterpiece film Rehearsals for Extinct Anatomies by the Brothers Quay. Foley sounds in this interpretation are mainly recorded with a lo-fi microphone in a one bedroom apartment and are derived from everyday household items. Sound sources include scissors, paper, wires, chairs, pencils, radiators, hair, glasses, knives, and more. The musical score deals with the resonances and electric ghosts of the acoustic instruments used in the original, although no samples from any music were used. This material was recorded and edited starting in September 2005 and continuing to January 2006 with as many major interruptions as there were months.
This release is no longer available.
For trade, or free with any order.
Playable on any standard DVD player.
Limited to 100 copies.
Housed in hand made envelopes.
Sealed with an authentic wax seal.