EE05: BROKEN DIODE – SCREAMING ON THE INSIDE CDR
13 December 2009
xdementia
No Comment
*DELETED*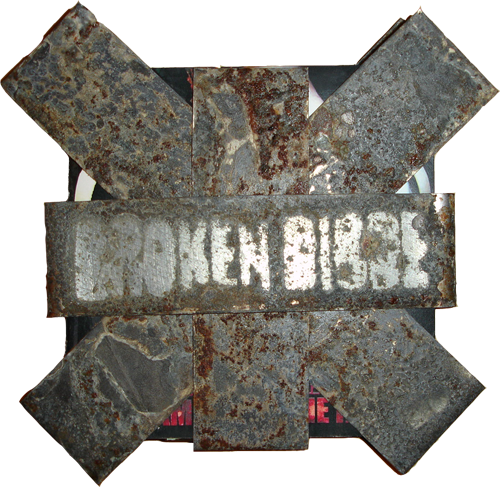 Twisted, abused, and squealing electronics meld to form an abrasive wall of unrelenting blistering noise. Textures range from crunchy-cut up brutality to wallowing passages of self-destructive loathing. The debut album from this Dresden based project rises from the ashes of broken towers and forms a scathing intrinsic diatribe.
Emotional Discharge I [Full Track]
Emotional Discharge II [Excerpt]
Emotional Discharge III
Emotional Discharge IV
Emotional Discharge V
Emotional Discharge VI [Excerpt]
Emotional Discharge VII
Emotional Discharge VIII
First 74 copies come with gross corroded metal case.
Comes with a full color 11″x17″ poster.
Each individual copy hand-numbered.
Limited to 104 copies.
Trades welcome but only for non-special editions.
Due to the handmade nature of the release, packaging may vary.
REVIEWS
From Heathen Harvest.
First and foremost, a confession. In the recent past I was one of those people who thought nothing of downloading releases from the internet and from peer to peer sites. Hell, I still do on occasion. However, this aspect of my music collecting self has been eroding away over the last two or three years. Why is it this the case and what does it have to do with this releases? Let's just say that the realisation dawned that while mp3's are easy to locate and collect they tend to lack substance when compared to their official release. Mp3's don't come with hand made packaging; pull out posters or limited edition artwork. You can't hold an mp3 in your hands and appreciate the time and effort, both pre and post production that went into making the release in question something unique. Screaming On The Inside by Broken Diode is a fine example of what I mean. The packaging on this limited edition is incredible.
Let's start with the hand made metal framework that imprisons everything. A tarnished, battered strip of metal banding, spotted with rust and stains. Solid, tangible and heavy, it has real substance and by god it looks the part. Tucked inside this is an A4 poster which in turn is wrapped protectively around the printed inner sleeve which itself cradles the printed form of the CD. Truly impressive and brutally businesslike. How this got through customs without being detonated I have yet to figure out, but I'm damn glad it did.
The content of the CD continues the corroded, abrasive and industrial theme started by the sublime packaging. Five tracks of brutal noise await. Whilst similar in style and technique, each track is able to stand on its own two feet and scream for individual attention. In a scene which has more than its fair share of generic sounding output this is more than welcome. Judging by the title of the release and the content of the cover art this would appear to be the soundtrack to my recent past. Screaming On The Inside is a term I've used more than once to describe a suffocating barrage of trapped emotions and frustrations. Each of the seven tracks here gives a voice to these feelings. Although initially sounding like a wall of analogue noise and tortured machinery on the verge of collapse and total breakdown, closer inspection reveals a host of intricately woven textures. Vocals appear just long enough to inject a human element into the machine chaos, before being swept away in the flood of frequency destruction, often torn into ragged shapes which in turn become something less than human. Brief moments of calm, and by brief I really do mean brief, are punctuated by growling basses which inevitably become part of something larger and dirtier without losing enough form to be completely swamped.
This is a fine, fine piece of work. An almost cathartic listening experience at times and executed with a vitriolic pride. Yes, I like this a lot. Actually, scratch that, I love this release! From the rust that stains my fingertips right through to the anguished frequencies that scour my inner ear. Quality noise may sound like an oxymoron, but right here and right now this is what we have. If you can locate a copy of this in the limited edition packaging and noise is your thing do not hesitate. Just buy it. If the limited edition is out of stock, what the hell, buy the normal release, you will not be disappointed.
From Club Debil.
Schon die Verpackung ist eine echte Messe. Hübsch rostige Metallbänder zu einem Kreuz zusammengeschraubt. Im Inneren befindet sich ein Booklet und ein kleines Poster und selbstverständlich eine CD. Aufschrauben muss man das Ganze nicht, um an den Tonträger heranzukommen. Ich gestehe aber, dass ich eine Weile brauchte, um das herauszufinden. Letztendlich konnte ich die CD dann doch befreien und in den Player legen.
Auf "Screaming On The Inside" bieten Broken Diode das, was man von ihnen erwartet: 71 Minuten feinsten Noise mit wenig Struktur. Es scherbelt, kreischt, schmirgelt, dass es eine wahre Freude ist. Harmoniebedürftige Menschen werden schreiend davonlaufen. Krachliebhaber werden den häufigen Wechsel und die unerbittliche Energie zu schätzen wissen. Die Stimme des Protagonisten ist, im Gegensatz zum Beispiel zu den Liveauftritten von Broken Diode, bis an die Unkenntlichkeit verzerrt und als solche kaum noch wahrnehmbar. Da steckt extrem viel Schmerz drin, was auch mit der Tatsache korrespondiert, dass die Stücke teilweise "ambient" werden, also "zeitlos". Wie wenn im Schmerz das Gefühl für Raum und Zeit verloren geht. Definitiv nichts für schwache Nerven und ein weiterer Schritt in Richtung Kompromisslosigkeit für Broken Diode.
From Judas Kiss.
OK, so I know we're told not to judge a book by its cover, but when its cover is a twisted slab of corroded metal that has been forcefully folded into an eight-pointed CD case held together by a screw and nut, it's difficult not to get a little carried away before you wrestle the CD free from its packaging. Yes, the packaging for Broken Diode's 'Screaming on the Inside' is as old-school industrial as it gets. It's heavy, tactile, industrial, and it screams with fucking brilliance. It will have those of us who are sad old record and CD collectors (like myself) simply wetting themselves with excitement. It seems almost irrelevant at this stage to explore the music, as its metal case is more than enough to satisfy. However, when you do forcefully eject the professionally duplicated CDr and its cover from the case and are faced with the torn-up back of the cover model, the large fold-out poster, and of course the CD itself, everything falls into place, with the case becoming just one intricate piece of the whole release.
Musically, the seven tracks that make up 'Screaming on the Inside' are as harsh as the metal sleeve that encases them. Intensely unrelenting waves of noise, screaming high-pitched squealed frequencies and distorted washes of sounds are thrown together to create an unceremonious racket of extreme properties. Track after track, the intense waves of noise batter your senses as they tear shreds from the speakers they spew forth from.
To say that what Broken Diode have done here musically is extreme is somewhat of an understatement. The unrelenting sonic attack of pure noise and distorted, shrill sounds is a punishing listen that stretches the definition of music way past breaking point and then some. Lying somewhere between power electronics and harsh noise, "Screaming on the Inside" is as punishing as it gets. Listening to track after track is as difficult and challenging as you'd expect from a release that produces such a slew of harsh electronic noise.
From start to finish, the whole package that Broken Diode has offered up with 'Screaming…' is one of intense harshness and ferocity. Its definition of industrial and noise couldn't be more concise, with the amalgamation of extreme sonic attacks and the corroded metal of its sleeve making a perfect union.
If you have any interest whatsoever in the more extreme edges of noise, then you could do a lot worse than "Screaming…". Likewise the sleeve, which is worth the purchase price alone, is more than attractive in its own right, and will have industrial collectors salivating wildly.
Limited to 100 hand-numbered copies, it's guaranteed that this won't be around too long, so buy, buy, buy and prepare to go deaf!