Peter J Woods – Songs for Nothing LP
12 April 2011
xdementia
No Comment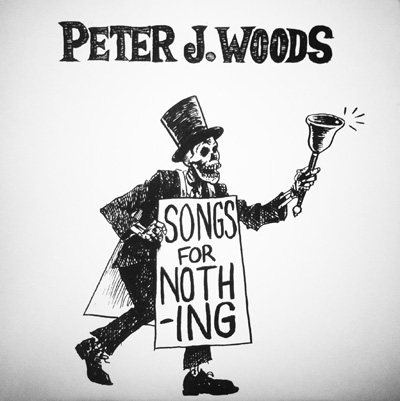 Peter J Woods – Songs for Nothing LP
Songs for Nothing continues where Peter J Woods has left off and explores the eclectic form of experimental crossover music that Peter is well known for. A mix of sound collage, drones, vocals and power electronics the album brings the listener through passages ranging from harsh, balls-out power electronics complete with screaming vocals, throbbing distortion and walls of noise, to high tension orchestral strings and even into lo-fi scattered sounds.
Although there are separate tracks on each side, the sound flows, or at least feels like 2 larger movements. Side A blasting in with The Notion of Progress Accepted As Myth which qucikly dies down to an affected vocal mantra. The changes sometimes seem a little fast and abrupt at times but each moment is always grabbing for attention in one form or another.
One thing Woods is consistent with is his presentation and exploration with new sounds. The sounds range from smooth distorted drones to chittering synths, warbled vocals, metallic percussion and a great use of samples. The editing is spot-on with elements crashing in to the left and slowly fading out on the right channels. Always a nice use of space, and the stereo field which adds a lot of depth to the recording here.
Songs for Nothing is yet another small step forward in the unique style that Peter J Woods is carving out for himself in this muddled noise world. There is something up front and raw about this material, emotionally as well as sonically. Yet another solid release from this artist who seems to just keep the goods coming.
| | |
| --- | --- |
| Composition: | |
| Sounds: | |
| Production Quality: | |
| Concept: | |
| Packaging: | |
| Overall Rating: | |