EE06: V/A – BLOOD TIES DOCUMENT 2006 CDR
13 December 2009
xdementia
No Comment
*DELETED*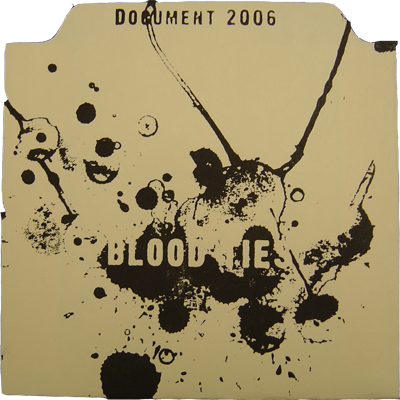 A collection of noise and experimental music created in 2006. Tracks from sold-out limited releases, live sets, outtakes, etc. Ranging from minimal ambient and experimental, to power electronics, to harsh noise.
Featuring: Fire in the Head, Harm Stryker, Envenomist, Chefkirk, Jake Vida, Lackthrow, Noisewerrrrk, Caustic Castle, LSFB, and Salvation for Sale.
Blood Ties Document was a compilation that was sent out to labels that have made contributions to Blood Ties WebZine.
Harm Stryker – Untitled
Chefkirk – Avoid Conspicuous Clothing
Caustic Castle – Untitled Restraint [Excerpt]
Jake Vida – Ten Arrows 1 Excerpt [Excerpt]
Lackthrow – Bound By Blood
LSFB – Axe Wound [Full Track]
Salvation for Sale – Angkalocaust
Fire in The Head – Live Dresden 05-20-06 [Excerpt]
Envenomist – Bon Voyage
Noisewerrrrk – A Rain
Comes in a unique hand made sleeve.
Silkscreened artwork with printed insert.
Each individual copy hand-numbered.
Limited to 50 copies.