EE09: V/A – BLOOD TIES DOCUMENT 2007 CDR
21 December 2009
xdementia
No Comment
*DELETED*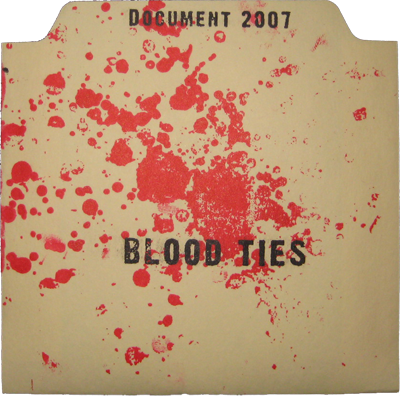 A collection of noise and experimental music created in 2007. Tracks from sold-out limited releases, live sets, outtakes, etc. Ranging from minimal ambient and experimental, to power electronics, to harsh noise.
Featuring: Anapthergal, Keplers Odd, Content Nullity, Oubliette, Fixture for Toxins, Lackthrow, Noisewerrrrk, Northern Machine, +Dog+, Mystified, and Salvation for Sale.
Blood Ties Document is a yearly compilation that will be sent out to labels and artists that have made submissions to Blood Ties WebZine.
Lakkalanga – cL.Y
+Dog+ – No Regrets
Content Nullity – Pure Refined Chaos [Full Track]
Oubliette – RTHHDFGHDFH
Lackthrow – CUSP
Noisewerrrrk – Baal Molok Remix
Fixture For Toxins – Skynning Till Puder [Full Track]
Salvation for Sale – Valerie Solanas
Anapthergal – Live 9.24.07 [Excerpt]
Northern Machine – Everthing Touches Everything Else
Keplers Odd – 070826-3 [Excerpt]
Mystified – Expedition Ghosts
Comes in a unique hand made sleeve.
Silkscreened artwork with printed insert.
Each individual copy hand-numbered.
Limited to 78 copies.