Cock E.S.P. – Historia De La Musica Cock CD
28 April 2011
xdementia
No Comment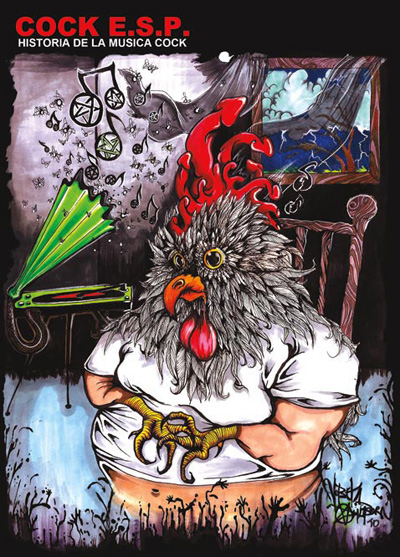 Cock E.S.P. – Historia De La Musica Cock CD
Little Mafia, Breath Mint, Sun Ship
Cock E.S.P. the infamous misfits of noise return with the mammoth release of yes, a full 99 tracks, technically more if you count the goddamn "medley" on here. This is total aural terrorism and I really expected to hate this album with all my heart, but after a closer inspection and listening to it, I can't help but respect and adore what Cock E.S.P. has done here.
With each track painstakingly titled in satire it's hard not to acknowledge the amount of effort and creativity that went in to Historia De La Musica Cock. With titles like We Are the Duchampions, 4.33 Inches, Served With Garlic Non and a Choice of White or Boyd Rice, etc. merely reading the track list guarantees hours of entertainment for the whole family.
As for the sound, Historia kicks off with a few solid minutes of harsh noise mayhem – to be expected. But quickly moves on to a pristine audio collage of the various influences these artists appreciate. The moments are sometimes strange, sometimes funny, and always unpredictable. The noise doesn't stop, you never know when that lone sax echoing in the background can suddenly fly out of its player's hands and ram itself up your ass with a blast of white hot noise.
In the end, what makes Historia De La Musica Cock really work isn't the fact that Cock E.S.P. has perfectly sequenced 99 short noise tracks onto a disc with each hitting home individually, it's that Historia fits perfectly well together as it's own 30+ minute track that works like an audio montage of their past in fast forward, or even a montage of only the best points in their musical listening/learning history.
| | |
| --- | --- |
| Composition: | |
| Sounds: | |
| Production Quality: | |
| Concept: | |
| Packaging: | |
| Overall Rating: | |