Subklinik – Musik for Dekomposition CD
29 April 2011
xdementia
No Comment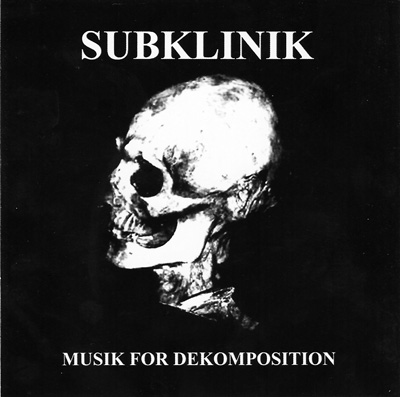 Subklinik – Musik for Dekomposition CD
It's been a while since the name Subklinik has graced my eyes and ears and so I was quite ecstatic when I received this gem. As far as I can remember Subklinik has been around for quite some time but is a lesser known and less prolific project. They create dark electronic music and do so with clarity and vision.
The style of music on Musik for Dekomposition is somewhere between The Slaughterhouse era Brighter Death Now and the sounds of the more synthesizer based N. A very good starting point. I wouldn't say Dekomposition is really aggressive at any point, the devil is in the details in these more minimal compositions. The album clocks in at just over 30 minutes Subklinik makes use of every minute here.
The sounds on Dekomposition are usually repetitive synth structures with ranging from more rhythmic lo-fi synth lines (Flesh Dekomposition) to more atmospheric outings (Dekomposition II) and finally to some lonely wallowing throbs in Extraktion Procedure.
This sound reminds me very much of a lot of Italian lo-fi minimal industrial projects but I really like the sparseness of the compositions, and the atmosphere here. Very giallo, very spooky, and quite mechanical. A solid work from this long standing project.
| | |
| --- | --- |
| Composition: | |
| Sounds: | |
| Production Quality: | |
| Concept: | |
| Packaging: | |
| Overall Rating: | |