False Flag – Lucre/Teeth 2xFD
1 May 2011
xdementia
No Comment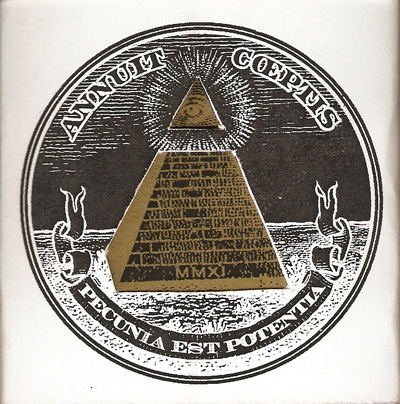 False Flag – Lucre/Teeth 2xFD
So, if you're wondering about what the fuck kind of format this release is, "FD" stands for FLOPPY DISC. Yes, that's right kids, I'm talking 2x 3 1/2″ 1.44 MB FLOPPY DISCS. Of course people will have differing opinions on the relative usefullness of this format but personally I don't care. I appreciate the effort to have to find a floppy drive, download the tracks and also enjoy the monumental packaging in the process. With cut-out elements, gold silkscreen and phenomenal minimalist text design this release is killer in so many ways, especially as a collectible item.
The sound is delivered in mp3 format as four tracks clocking in at 1 minute 11 seconds each. This doesn't give much room for evolution at all but does give enough of a taste to appreciate the extremely harsh and rough sound that False Flag delivers. I gotta say I am very much enjoying the direction in which this is going.
The buzz saw drone in Lucre Part 1 is my favorite sound here and continues for the majority of the track. Lucre Part 2 isn't quite as strong because it's harsh noise but just not that aggressive which you quickly realize when Teeth Part 1 kicks in. It absolutely pummels you with spastic harsh noise wall and manipulated vocals, as Teeth Part 2 follows suit and does a similar thing with a longer introduction and another blast of overblown noise at the end.
I really dig this release as a whole yet because the audio is so short and just flies by so quickly it's difficult to judge. But as far as an under 5 minute release goes it's great. The packaging, as I stated before is the best thing I've seen in a while so this is definitely worth a purchase. Stuff like this just gets me psyched on the current noise world in general so I'm glad to see things evolving this way.
| | |
| --- | --- |
| Composition: | |
| Sounds: | |
| Production Quality: | |
| Concept: | |
| Packaging: | |
| Overall Rating: | |