Aaron Dilloway – Chain Shot CD
27 May 2011
xdementia
No Comment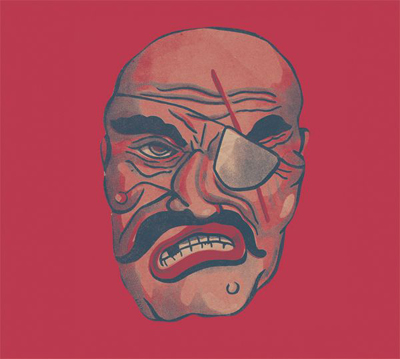 Aaron Dilloway – Chain Shot CD
Here is my first album experience of the now well-known artist Aaron Dilloway. I have seen him live in the past and enjoyed his performances and it is interesting to hear what his style is on record.
Chain Shot doesn't feature the intense contact mic'd noise that I expected. This is a much more restrained album and I would almost say it has more to do with avant garde musique concret and electroacoustic sounds rather than a harsh noise extravaganza.
There are three long tracks to the record with the first two clocking in a 15 minutes and the final track somehwere near 30. Chain Shot is the opener and is possibly the noisiest of the three with some nicely detailed and lo-fi field recordings of machinery fading into some thriving overdriven noise loops. This definitely reminds me of some kind of tape music, or old school archival musique concret recording.
Execution Dock is a little more varied with shiny high sounds, but sticking with a heavy use of tape loops and delay. The sound is still quite lo-fi and filthy but it brings to mind a noisier form of Michael Gira's The Body Haters project with overuse of loops and delay. There is some kind of sludgy chanting mixed in as well with almost adds a palpable atmosphere.
Medusa is the longest track and I enjoy the first part with quiet minimalist ambient sounds. The rush of air from a fan, AC unit field recordings, scruffy tape noise, and plenty of dead air. This eventually fades into some more watery textures and then into degraded tape and contact mic noise.
Chain Shot definitely isn't really bringing anything new to the table but the lo-fi sounds are enjoyable to experience and the tracks have some interesting ways of evolving and morphing. There are moments when the compositions are very effective and then there are moments when the sounds are the saving grace here.
| | |
| --- | --- |
| Composition: | |
| Sounds: | |
| Production Quality: | |
| Concept: | |
| Packaging: | |
| Overall Rating: | |