2673/Unicorn – Split CD
10 June 2011
tankakern
2 Comments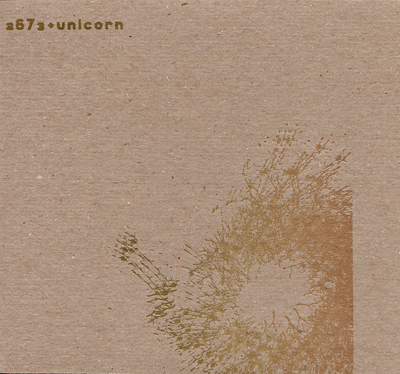 2673/Unicorn – Split CD
Kitty Play Records
Boasting a personnel of Kevin Winter and W.T. Nelson (ex-Man Is The Bastard/Bastard Noise), this split has some weight behind it. Unfortunately, the music doesn't particularly live up to that weight. While the aim here apparently is to be engrossing yet minimal, neither act pulls it off well. The effect, unfortunately, is rather dull and strikes me as rather pretentious.
2673's side is the biggest culprit here. Far too minimal, the sound variation approaches nil. Droning, minimal synth at its worst, I can't imagine it getting any duller than this. There is a short bout of wall noise, but it's much too similar to nearly every other damn noise album out there to be interesting in the least. The sounds are warbling and squealing blasts of distortion, but I just can't really bring myself to care.
The Unicorn side starts out with a ritualistic, ambient feel. This works fairly well but the rest slides downhill fast. There's really not enough present to be that engrossing, and the sound itself is very clean and almost stylized, as if Nelson was taking a plain dark ambient album and adding little noise touches here and there. The effect is only mediocre. Clowns finishes off the album with a droning, eerie guitar based piece, and while it seems like the intention here was to be somewhat scary, it seems more sanitized than anything.
This split bored me. 2673 just doesn't do it for me at all, and while I haven't heard much Bastard Noise, W.T. Nelson probably should have stuck to powerviolence.
| | |
| --- | --- |
| Composition: | |
| Sounds: | |
| Production Quality: | |
| Concept: | |
| Packaging: | |
| Overall Rating: | |