Wolfskin – O Ajuntar dad Sombras CD
7 July 2011
xdementia
No Comment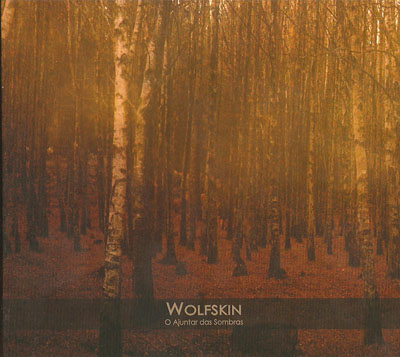 Wolfskin – O Ajuntar dad Sombras CD
This is my first exposure to Wolfskin and it features a solid representation of the artist as most Malignant releases do. With muted earth tones and understated artwork the visuals reflect the sound well.
These are synth ambient tracks with some subtle tribal influences here and there. Sometimes in the form of shimmering chimes glittering on the edges of the harmonics, other times manifested as drums loops yet at all times layered beneath the swirling drones.
The overall atmosphere features nothing new, this is well tread territory in all respects but there is some competence in sound design, as with the ethnic reed instruments featured in The Yew Column. It often feels quite arbitrary whenever the drums appear and the synth patches are rather dull, although the latter are sometimes accompanied by subtle textures which tend to add some much needed character to the recording.
The production also suffers a bit from being too polished and clean, it tends to lack the low-end where it counts and also leaves out any grit and grime which would help to boost the organic quality of the recording. Something that Wolfskin is certainly attempting to obtain.
By the time Iron Unfolded rolls around we are presented with an almost martial theme along with grim spoken lyrics that bring to mind something close to Blood Axis. Overall though the biggest influences seem to be Inade and Bloodbox yet Wolfskin only manages to form a mere shadow of their greatness.
| | |
| --- | --- |
| Composition: | |
| Sounds: | |
| Production Quality: | |
| Concept: | |
| Packaging: | |
| Overall Rating: | |