Climax Denial – All Of My Loves Are Like Dreams CD
11 July 2011
xdementia
No Comment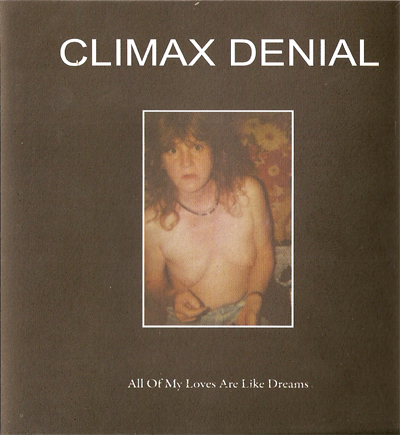 Climax Denial – All Of My Loves Are Like Dreams CD
Here is Climax Denial's first proper CD release, but with such an extensive discography I don't really know if that means anything special. All Of My Loves… thankfully lives up to – and might I dare say – exceeds expectations.
The tracks are just as aggressive as always with all aspects of Climax Denial's sounds represented. Creeping ambience leading into heavy distorted ambience (see the opener Oh Mommy, I am Dying), pulsating power electronics with sickened vocals (see The Little Parts of Your Insides that Show on The Outside), and even more strictly atmospheric tracks like You'd Better.
The variety here really helps to add depth and breadth to the album and engage the listener effectively in Climax Denial's dark obsessive narrative. A kind of abstract tale that weaves itself throughout the lyrics contained in the booklet telling tales of sordid love and woe, obsession and delight.
Climax Denial manages to reach an epic sound in several tracks including Maybe I Ask Too Much Of Mistress with its elaborate screeching and pummeling dark synth tones.
All My Loves is a phenomenal industrial noise album spanning several different genres as well as a variety of atmospheres while still maintaining a solid core sound that each track rotates around. It's a more mature effort from this prolific project who – despite his voluminous output – manages to keep a high level of quality. Excellent release.
| | |
| --- | --- |
| Composition: | |
| Sounds: | |
| Production Quality: | |
| Concept: | |
| Packaging: | |
| Overall Rating: | |