Pestdemon – Doppelgänger C30
13 July 2011
tankakern
No Comment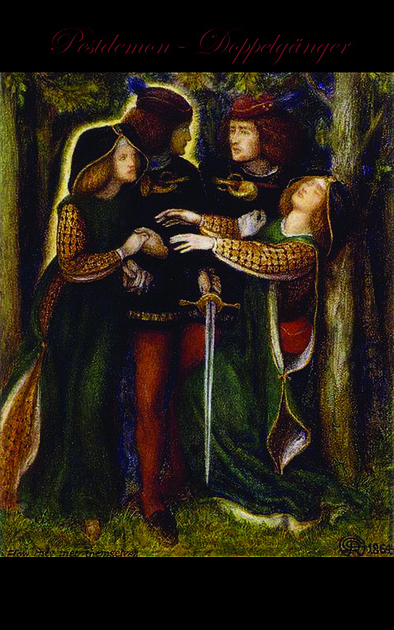 Pestdemon – Doppelgänger C30
Unrest Productions
Doppelgänger is Pestdemon's latest output on Unrest Productions, a label boasting an array of artists such as Richard Ramirez, Gelsomina, and Black Leather Jesus. With an amalgamation of sounds centered on a solid, wall noise base, this cassette provides a sense of mystery and familiarity simultaneously.
Consisting of heavy electronics and mostly wall noise, Pestdemon provides a slow but tense buildup on Hemsökelse – Ritual. The tones shift in a subtle but consistent fashion; high frequency background noises rise out of the mist and industrial noise matches the groaning, crackling distortion. The sounds are wavering and changing at a constant rate. Begravningsskepnad – Åsyn is a departure from the previous track. Starting with a minimal and dismal piano piece, the track slowly evolves into noise matched with operatic singing. The effect is surprisingly appropriate and the singing voice matches the noise entirely. This track is very well composed and thoughtful of how harsh noise would interact with more musical elements in a way that doesn't diminish either element.
Overall, Doppelgänger is a decidedly restrained work that avoids being unnecessarily minimal but is highly composed and highly engrossing.
| | |
| --- | --- |
| Composition: | |
| Sounds: | |
| Production Quality: | |
| Concept: | |
| Packaging: | |
| Overall Rating: | |