Al Qaeda/Dried Up Corpse – 1309 C27
13 July 2011
tankakern
No Comment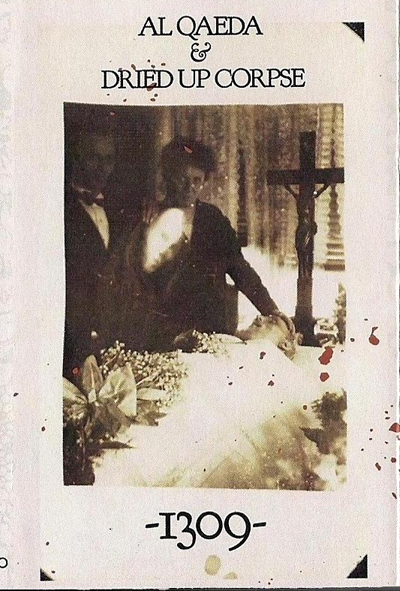 Al Qaeda / Dried Up Corpse – 1309 C27
Sporting a beautiful, double sided insert abounding with images of the grave and the single inscription "Fuck you", Al Qaeda and Dried Up Corpse treat the concept of Fucked in their own individual ways on this 1309.
Al Qaeda's side consists of some ambient-esque electronics with avant-garde aural environments: chimes and bells sound off continuously and regularly while distorted voices narrate the empty, hostile atmosphere. The right touch of paranoia is found here and the track stays minimal and only briefly brushes with the dreaded label of "redundant".
Dried Up Corpse (featuring Stan Reed of Blue Sabbath Black Cheer fame), on the other hand, provides a likable juxtaposition of harsh noise to Al Qaeda's quiet, patient sound. Bouts of reverb cascade off the wall of noise while screaming voices can marginally be heard within the storm. Unfortunately, Dried Up Corpse's take on the Fucked concept tends to be much more redundant and doesn't make much progression through the sound at all. Some minor tonal changes can be detected throughout the track but overall, any real power is lost halfway through and becomes dull far too fast.
1309 is a decent split between two decent artists taking on the same concept. I wouldn't call it a must-own, but interesting nonetheless.
| | |
| --- | --- |
| Composition: | |
| Sounds: | |
| Production Quality: | |
| Concept: | |
| Packaging: | |
| Overall Rating: | |