Pedestrian Deposit – Austere CD
24 July 2011
xdementia
One Comment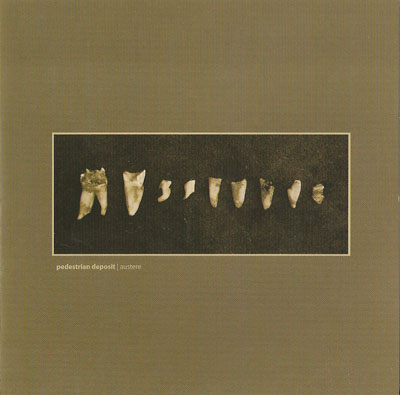 Pedestrian Deposit – Austere CD
Austere seems to mark a new turn for Pedestrian Deposit. Now a duo, they create electroacoustic atmospheres that sometimes wanders into ambient or industrial territory. Of the old harsh noise sound, there is little to be found. Although I do enjoy this new shift, there is still part of me that yearns for the intensity of previous harsh blasts. The change in style isn't all that surprising though, as Pedestrian Deposit's more recent CD release Fatale, proved to be just as much of an outing from harsh sound, as it was a champion of it.
Within Austere you will find glitchy electronics, subtle drones, clicking samples and field recordings, subtle nods to PD's harsh noise past, but nothing overtly stating it. The tracks seem to ebb and flow with a kind of zen that is captured without wandering into the territory of endless meandering. Every subtle detail feels carefully constructed and for each of those details every base is covered with tact and precision. In other words, Pedestrian Deposit does a variety of sounds here ranging from experimental, to drone, to electroacoustic and they do each one well.
There are even moments that bring the listener into dusty hallways, lonely corners of rooms, humming power lines, emtpy amplifiers and lonely summer nights. Don't mistake the variety for piecemeal though, Austere has a very solid core with the style and recording and comes off as a polished vision with consistency and purpose. Most of the atmosphere would fall under "dark" or "melancholy" here but I might go into more descriptive words such as disconnected, contemplative, and nostalgic.
Austere is something different but definitely a change I can get behind. Although I do miss the harshness of Pedestrian Deposit's heyday, I appreciate the need to evolve, to try something that calls for more of a sleight of hand, more subtlety. The delicacy is palpable here and Pedestrian Deposit remains at the top of their game.
| | |
| --- | --- |
| Composition: | |
| Sounds: | |
| Production Quality: | |
| Concept: | |
| Packaging: | |
| Overall Rating: | |