Dead Body Love – 10 Luglio 1976 C45
27 July 2011
xdementia
3 Comments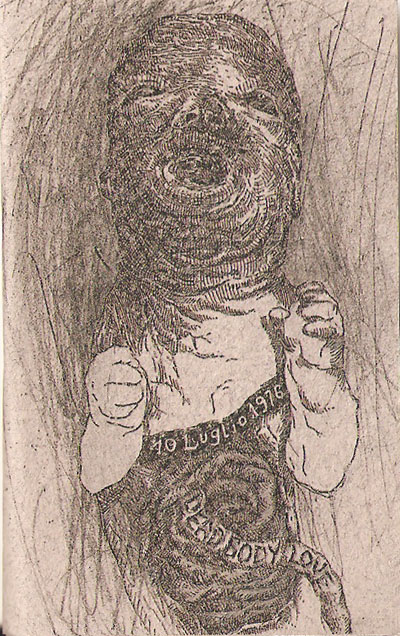 Dead Body Love – 10 Luglio 1976 C45
This is my first exposure to Dead Body Love and looking back it's tough to believe the project has been active since 1995. 10 Luiglio 1976 could fall under the harsh noise wall banner with 3 long tracks of harsh noise. Exploding distortion, white hot blaring synths, skronking frequencies.
This material reminds me a lot of later digital-era Merzbow. It's pretty lo-fi and I wouldn't be surprised to find that it was produced on a laptop, although I suspect this may just a result of it being a badly produced tape. There's not a lot of low-end featured here, most of the noise screeches into the higher registers.
There's a moment here and there where things die down a bit to reveal some synthesizer textures and there's a fair amount of bubbling feedback on top of the mix but most of all this comes across as some kind of weak harsh noise attempt. Well, it's harsh, but in an annoying kind of way rather than being at all aggressive, or having any body to it.
I generally just find this tape uninspiring, mediocre, not appealing to me much at all. I could perhaps get into this if it was of a decent quality but it sounds weak and that holds it back too much to give this the credit it might deserve.
| | |
| --- | --- |
| Composition: | |
| Sounds: | |
| Production Quality: | |
| Concept: | |
| Packaging: | |
| Overall Rating: | |