Bastard Noise/Actuary – Skeletal Uncertainty LP
28 July 2011
xdementia
No Comment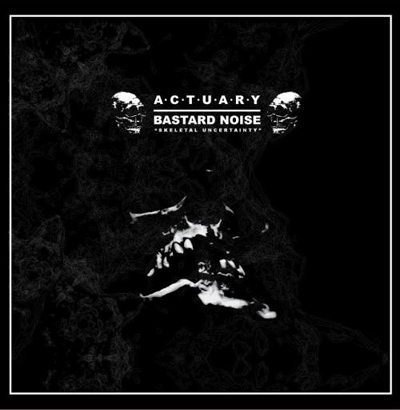 Bastard Noise/Actuary – Skeletal Uncertainty LP
Here we have a split LP between the mighty Bastard Noise and the lesser-known Actuary. Of course I am familiar with BN but I have not yet been exposed to the sound of Actuary. The packaging of this is pretty strait-forward with text and simple logos. The only issue I have is that cover looks a rather shoddy with a skull graphic that reeks of cheap photoshop filters. Aside from that the inner spread is pretty sick with a nice variation on the classic BN logo.
Actuary is up first with a slowly building track entitled Iron Skies. It's not particularly heavy but sneaks up into a swirling miasma of droning distortion. There are some decent textures and twists and turns here but there are some cheapo moments as well where things just sound uninspired. The second track Enemy of the Truth kicks off with a spoken sample and goes into a similar, but perhaps more textured bed of sound. There is some sputtering and chopping with noisy bits mixed in. Overall it's a decent effort but not enough to peak my interest.
In one long track Incineration Prayer, Bastard Noise presents their token sound of tube-driven D.I.Y. synthesizers. At first it is a bit slow because this is such a typical sound for Bastard Noise now. It sounds similar to many of their other releases, which are good in their own right but I was really hoping for something new. Luckily the vocals that come in are really sick and they sneak in so subtly that they're belting before I even realized they were there. The effects on the vocals are great and join with the droning, pitch bending layers of synths behind all the mayhem to form a mind bending barrage of heavy electronics. The track reaches a chaotic climax where it gradually dies down into an industrial pulse.
Definitely solid material from both acts but nothing too mind blowing or ground breaking here. A great starting point if you are looking to familiarize yourself with Bastard Noise.
| | |
| --- | --- |
| Composition: | |
| Sounds: | |
| Production Quality: | |
| Concept: | |
| Packaging: | |
| Overall Rating: | |