Michael Graeve – Simple Methods For Complex Times CD
7 August 2011
tankakern
No Comment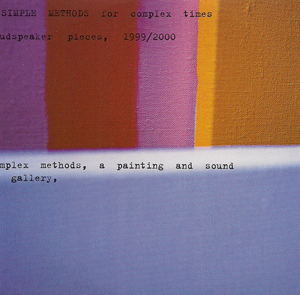 Michael Graeve – Simple Methods For Complex Times CD
Megalomania, Micromania
Released as an aural accompaniment to Simple Paintings for Complex Methods, an abstract art exhibit in 2001, Simple Methods for Complex Times is a short collection of minimal, improvised sounds. Overall, the sound stays very minimalistic with very minor sections of harsh noise. The sounds are scratching and atmospheric and at times take on a very minor industrial sound.
This 14 minute long album touches on ambient and noise music effectively, and while the minimal motif isn't always pulled off, I feel like listening to Simple Methods for Complex Times doesn't really get across whatever Michael Graeve is trying to say. While music like this is nothing new for noise fans, Simple Methods for Complex Times seems to be lacking any sort of context when consumed outside of the exhibit (which, from the liner notes, appeared to have been a very minimal and aesthetic one at that).
Simple Methods for Complex Times is aptly named; there's not a whole lot of texture or denseness going on here. Hints of rhythm can be heard and the tracks overall are well balanced, but I feel like I want to experience Graeve's visually artistic endeavors to round out experiencing this album. Perhaps that is the intention.
| | |
| --- | --- |
| Composition: | |
| Sounds: | |
| Production Quality: | |
| Concept: | |
| Packaging: | |
| Overall Rating: | |