White Reeves – Ultimate Pleasure Til Death C20
10 August 2011
xdementia
No Comment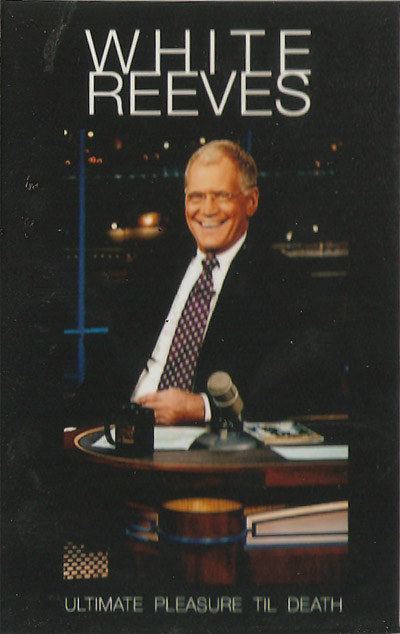 White Reeves – Ultimate Pleasure Til Death C20
Here's a tape from Ryan Emmett – the main person behind Hunted Creatures – and Micah Pacileo who is also from the same project. Apparently the material here is culled from hours of recordings, presenting only the best moments. I wish every noise act did it this way. The artwork here immediately stands out with a photo of David Letterman. I can't really figure out how it relates to the sound.
Side a opens with a kind of wishy-washy stew of psychedelic sound which continues throughout the track. Synthesizers and guitars collide in a fine way to create a kind of dense and spacy atmosphere. The music dies down and a muffled spoken sample that is a few minutes long ends the side.
Side b is a bit more musical with chirping melodic synth lines, meandering harmonies and layers of different music elements. It's shiny with a small new-age influence kind of following the trend for this indie-electronica thing that is going around these days. Not bad at all, but the production is just a touch lo-fi yet the sounds are well spread out within the mix. Although only one track is mentioned on the insert another shorter track follows and this one is quite interesting with experimental elements jammed together sounding like chiming clocks and broken pianos. There's a lot of delay and this short little outtro turns out to be my favorite part of the tape.
This is a tape that will appeal to improvised electronic music, guitar structures, and new style shoegaze electronica. Not a bad effort for what it is, although I don't think this is something I'll find myself in the mood for often it's a decent effort and a well selected assemblage of sounds and tones.
| | |
| --- | --- |
| Composition: | |
| Sounds: | |
| Production Quality: | |
| Concept: | |
| Packaging: | |
| Overall Rating: | |