Troum – Ljubimaya|Daur CD
14 August 2011
xdementia
No Comment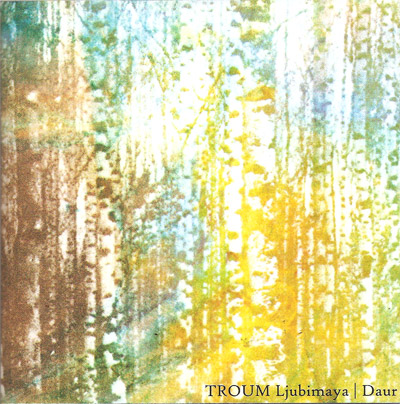 Troum – Ljubimaya|Daur CD
This CD is a re-release of two 10″ records from 1998 and 2003. If you are at all familiar with Troum you will already know that they are one of the top acts creating guitar-based drone and ambient atmospheres and have been at it since the mid 90s. Luckily they never fell completely into the post-rock genre so even with the material from 2003 we can hear creepy airy ambience with guitar often at the forefront but no drums anywhere in sight.
The first 3 tracks are from the Ljubimaya EP and are minimalist drone affairs reminding me a lot of early Amon, or other Drone Records projects. Subtle and even somewhat lo-fi but with an epic atmosphere this material continues to stir emotions in me. It's focused and precise with subtle harmonies emerging to form monolithic walls of sustained tones.
The next three tracks are from Daur and they continue to step things up a notch with a much higher production quality and more musical territory. Yet this still stays in the ambient realm of things, the material shows infleunce of projects like Tribes of Neurot with repeating twanging strings, distant metallic shifting and excellent guitar processing.
If you aren't familiar with Troum you should be and Ljubimaya|Daur is a great starting point. An excellent disc on more than one aspect and a perfect gateway into Tourm's carefully constructed world.
| | |
| --- | --- |
| Composition: | |
| Sounds: | |
| Production Quality: | |
| Concept: | |
| Packaging: | |
| Overall Rating: | |