Swamp Horse – Oracle 3"CDr
19 August 2011
xdementia
No Comment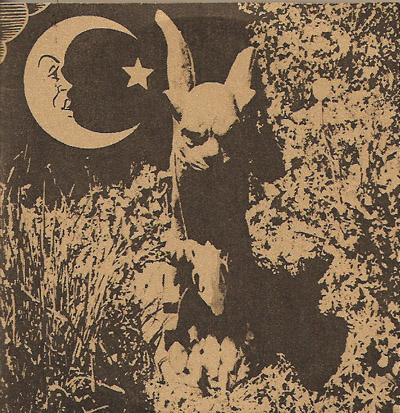 Swamp Horse – Oracle 3″CDR
Swamp Horse is the legendary Josh Lay and for this project he is joined by Morgan Rankin, the latter is a name that sounds somewhat familiar but I can't quite recall where from. This is another quality release from Dumpsterscore Home Recordings, a label which is impressive with it's consistent aesthetic and smart packaging. The simple lined black work on metallic gold paper being a nice touch to this minimally packaged 3″. I really love the 3″ format because with 22 minutes it provides just enough time to get a thorough taste for an artist without getting into too many nitty gritty details.
Lo-fidelity is the name of the game for Oracle, because this is some muddy, murky shit here. I can't quite say that it entirely works to it's advantage, but it does at least provide for some added dust and speckles which accents the atmosphere a bit. Though I also feel like there are so many great details and spectra here that could be uncovered if the recording quality was of a higher standard.
Oracle is a dusty, droning and echoing collage of sounds with clicking objects on the fringe. Creaking closets, wooden floors, worn-out curtains, and spotted trim all grace the halls of this release. It's like one of those huge yet neglected victorian houses that you know was so gorgeous in it's prime, yet now lies in ruin. Probably just beyond the reach of a loving pair of caloused hands ready to fix it up again. Yes, Oracle is something where the postives of the release are also the negatives, I guess it just depends on whose ears they are falling in. Personally I fall somehwere in the middle on this one, but I would say that I lean more towards liking it just because of these mysterious visions and allegories it has put into my mind.
If you enjoy boggy, muddy, opaque waters, rusted tools, dirty floors and overgrown sidewalks this is the release for you. Overflowing with unintentional life and decay Oracle is like a daydream or a fever.
| | |
| --- | --- |
| Composition: | |
| Sounds: | |
| Production Quality: | |
| Concept: | |
| Packaging: | |
| Overall Rating: | |