A Death Cinematic – A Parable On The Aporia Of Vengeance And The Beauty Of Impenetrable Sadness 2xCD
19 August 2011
tankakern
2 Comments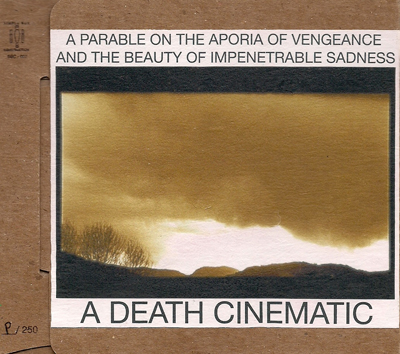 A Death Cinematic – A Parable On The Aporia Of Vengeance And The Beauty Of Impenetrable Sadness 2xCD
With a name that easily pigeonholes itself as overtly pompous, this colossal album does very little to live up to the pontifical nature of this droning, dull piece of work. Bearing a likeness in style to artists such as MGR and House of Low Culture (both Isis side projects. A total coincidence, I swear), A Parable On The Aporia Of Vengeance And The Beauty Of Impenetrable Sadness attempts to create a sort of stark beauty with a post-apocalyptic, the-Earth-will-be-better-off-without-those-meddling-humans vibe. It fails. I was left wondering when on Earth this behemoth of reverb heavy and slightly distorted guitars was finally going to come to a relieving halt.
Taking a significant cue from the post-rock scene, A Death Cinematic creates a sound that consists mostly of ambience with some riffs and leads that engage the listener only temporarily (if at all) and throws in a whole lot of ambient effects for good measure. I'm nearly insulted that anyone would label this album as "experimental". In fact, I would call A Parable On The Aporia Of Vengeance And The Beauty Of Impenetrable Sadness the very opposite of experimental. No real mood shifts are present. No real risk taking or displays of interesting composition ever rear up on this album. Everything played on the album is so safe and firmly planted in the artist's comfort zone. While I certainly have heard a lot worse than this, it seems that A Death Cinematic truly believes that 15 minute tracks that consist solely of basic guitar work and walls of reverb suffice alone for an intriguing experience.
Looking at the intricate and masterful packaging of this album, I felt severely disappointed and a little ripped off by how nearly ridiculous these two discs are. The back bears a big red X over some "gloomy post-industrial" photo captioned by the high minded words "YOU HAVE BEEN MARKED FOR THE APOCALYPSE". That's fine and well; I just hope the apocalypse sounds more interesting than this.
| | |
| --- | --- |
| Composition: | |
| Sounds: | |
| Production Quality: | |
| Concept: | |
| Packaging: | |
| Overall Rating: | |