Masaoka/Chen/Grüsel/Nagai – Masaoka/Chen/Grüsel/Nagai CD
21 August 2011
xdementia
No Comment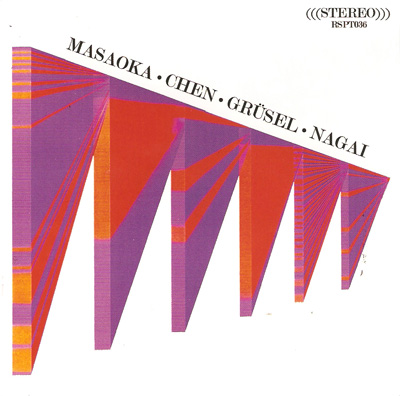 Masaoka/Chen/Grüsel/Nagai – Masaoka/Chen/Grüsel/Nagai CD
Now here is an odd amalgamation. "Kenta Nagai raises a Shamisan, Hichiriki and his throat together with the far voice and violoncello of Audrey Chen as Miya Masaoka conjures Koto with electronics and Hans Grüsel, rummaging in a suitcase of blippoo box and bugbrand weevil08, douses for… then detonates waveforms." Definitely a strange collection of instruments and talents here which could easily result in a meandering mutual jerk off session, or an intensely profound and intriguing convergence of styles and instrumentation. Luckily for all of us, this charming and engrossing disc falls into the latter category with incredibly original compositions and variations on improvisation.
Each track has it's own set of gestures and attributes. This isn't a disc that simply explores one small idea to it's fullest over the course of an hour, or one that meanders aimlessly until there is simply no cohesive direction or vision accomplished. Although, often the movement is gradual – sometimes slow and sometimes moving at breakneck speeds – it appears the quartet has some ability to bend space and time. Time is a relative thing when experiencing the disc as moments are seemingly compacted into a barrage of attacks on your senses as in the opener Dialing or the shorter Ligature (no. 2). Time seems to fly by and you can barely keep track of all the detail and the audible tenseness that the instrumentation exudes. No matter how it plays out though, everything seems to fall neatly into place, even though it has an air of total chaos. It is like the highest zen state has been reached, like a cyclist carefully and pricesily dodging their way through wreckless city traffic without a fear towards death.
Other compositions like Ligatures will freeze you with their stillness, so slowly changing yet capturing a most beautiful sonic tapestry. It really lets you settle into the sound, enveloping you with it's peacefulness and serenity. There are also moments here where you will actually find melodies as well like the gorgeous Fuse which must be featuring the Koto. One of the things that I really appreciate is the seamless integration of the electronics. They twist and dive with just as much agility as the acoustic instrumentaiton here.
I still don't feel like I've done a good job describing at all how this disc actually sounds though. A mix between free improvisation, ethnic music, and glitchy yet organic electronics. Very hard to pin down yet such an original sound. This must be not just heard but experienced as well. An excellent disc with plenty of "beautiful accident" moments and precisely organized epiphanies.
| | |
| --- | --- |
| Composition: | |
| Sounds: | |
| Production Quality: | |
| Concept: | |
| Packaging: | |
| Overall Rating: | |