Human Larvae – What Lies Ahead C40
26 August 2011
xdementia
One Comment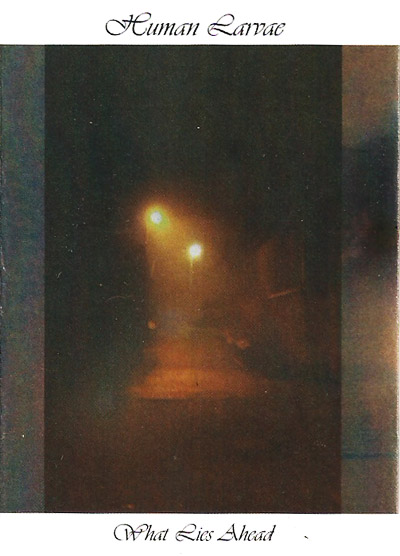 Human Larvae – What Lies Ahead C40
What Lies Ahead is the latest release in the works that chronicle this underrated German power electronics act. Utilizing the entire running time of this 40 minute cassette Human Larvae has crafted yet another exceptional full-length album that spans the genres of black noise, power electronics, dark ambient with a very subtle noir jazz influence. The tape unfolds over it's running time with tact and precision where Human Larvae yet again tells a sordid narrative of loss, hopelessness and no redemption.
Side A consists of three tracks with the first two A Journey Towards Obliteration/Self Destructive Thought Pattern and Ego Feeder both being scalding walls of blazing power electronics vocals backed by heavy walls of chugging noise. It's obvious Human Larvae has made improvements since his debut on Existence Establishment with special attention paid to the dynamics which have a dramatic effect, especially when Ego Feeder blasts in. Moments I'd Like to Shove Your Words Back Down Your Throat is a great closer ushering the listener into side B perfectly with a quieter more experimental yet foreboding piece that features a varied sound collage of elements to a noisy droning base. Yet another great sign of the versatility of What Lies Ahead.
Continuing where side A left off is And Then You'll Learn opening side B with a similar sound to the closing track on the previous side. Humming industrial loops with layered vocal samples on top of them. Although it's not long again before we found ourselves once more locked into that infernal industrial box with Human Larvae repeatedly screaming in our face. This time it sounds much more like frustration rather than anger. The way the underlying sound layers evolve and merge into each other works perfectly and makes the vocals all that much more intense. The tracks on side B tend to lean more toward being longer and slower moving. Undulating machine throbs give way to heavy strands of crunchy noise that work up to a passage of vocal attacks and back down to more subtle elements.
What Lies Ahead is yet another great addition to Human Larvae's body of work and shows that he is slowly but surely carving out his own sound from his impressive list of influences which I would say probably involve Navicon Torture Technologies, Ex.Order, and Genocide Organ. A more cinematic feel is acheived with this work and that is something that Human Larvae continues to succeed at. A perfect mix of industrial and power electronics as well as an old school and new school sound.
| | |
| --- | --- |
| Composition: | |
| Sounds: | |
| Production Quality: | |
| Concept: | |
| Packaging: | |
| Overall Rating: | |