Red Mass – Mule Stone CDR
29 August 2011
xdementia
No Comment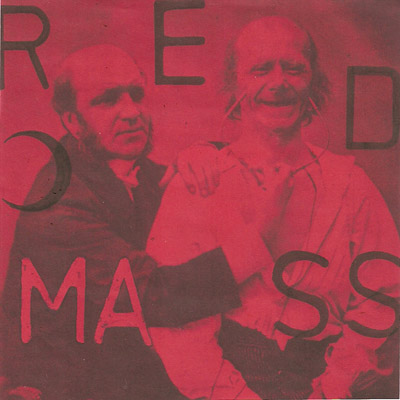 Red Mass – Mule Stone CDR
Well, I wasn't expecting this one! If you're not familiar with Brise Cul releases usually what you can find is a barebones yet classy DIY release. They cut right to the chase, photo copied artwork on colored paper, spray painted CDR. Just enough.
So, Mule Stone kicks off with a power electronics influenced piece entitled Tunnel. Droning electronics, vocals that start out a bit melodramatic but soon turn quite effective. The track seeps in little by little until it finally forms an interesting mixture of noisy drones and layered elements.
Then the following track Open Wide kicks in with… prog rock?!?! Yep, what we have here is some excellent Amon Duul II influenced psych rock to sate your appetite. I really wasn't expecting this at all, especially given the opening track but I don't mind if I do. I don't usually review this kind of stuff, but I'll do my best. The musicianship is kind of sloppy, but much more in a way that is charming rather than annoying. The atmosphere that is built with the amalgamation of the instruments is quite effective in sounding dated (I'm guessing they were going for that). But the tunes are quite jammy as well, meandering into weird patterns and not repeating itself much.
The last track Mule Stone is the longest here clocking in at about 17 minutes to make for a full disc that barely scrapes the 30 minute mark. But this is a great combination of instrumental drone seeming to make use of an accordion with slightly better guitar skills layered on top. The band Bent Leg Fatima comes to mind, but that's a pretty obscure reference I'm not sure many will get, perhaps it could sound like Acid Mothers Temple? Long, improvisational yet very harmonic and somewhat melodic too. "Musical" would be a good word. Psychedelic with a touch of folk in there.
It's a varied disc but really enjoyable not just for it's musical nature but also due to the variety. The first track obviously sticks out like a sore thumb here, but what's pleasure if you don't know pain?
| | |
| --- | --- |
| Composition: | |
| Sounds: | |
| Production Quality: | |
| Concept: | |
| Packaging: | |
| Overall Rating: | |