T.O.M.B. – Total Occultic Mechanical Blasphemy II CD
11 September 2011
tankakern
One Comment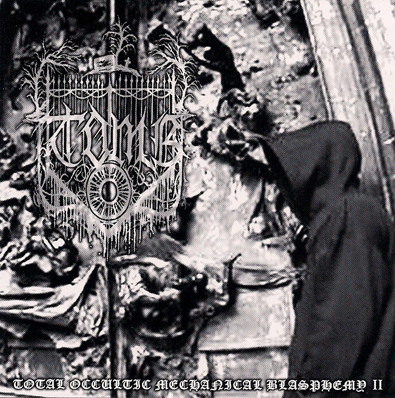 T.O.M.B. – Total Occultic Mechanical Blasphemy II CD
Firmly rooted in a black metal motif, TOMB presents "Total Occultic Mechanical Blasphemy II", a compilation collecting TOMB's "Sacrilegium" and "Black Crypt Worship" along with the unreleased album "Dungeon Sessions". While the imagery here may come off as somewhat corny and overdone, "Total Occultic Mechanical Blasphemy II" is a solid experimental and black noise album. With vicious, distorted vocals in a typical depressive black style, TOMB explores black metal ideals while heavily branching out into more industrial and experimental themes. While I can't say that he's entirely bending genres, as these sounds flow into one another very naturally, the sound is excellent and dismal.
The driving percussion on "Total Occultic Mechanical Blasphemy II" is the mainstay of most of the tracks. Utilizing a sound that could be described as martial industrial, tracks like Omnipotent Slaughter and Black Crypt Worship blend seamlessly with the atmospheric, blackened tone. The album has harsh noise tracks interspersed throughout and act as great interludes. What strikes me is that even though "Total Occultic Mechanical Blasphemy II" is technically a compilation, the mood here shifts as the album progresses. While the first half is more blackened, the last half (especially on Sonic Majik Experiment) takes on a wispy, dark ambient feel but doesn't sacrifice the malevolent ambiance.
The mix of lo-fi black and harsh noise, martial industrial, and even blackened krautrock (similar to Aluk Todolo) create a sound that is balanced and not at all overshadowed by the overall black metal theme. While some might be hard pressed to take this seriously due to the nature of the admittedly corny "trve kvlt black fucking metal" mentality, "Total Occultic Mechanical Blasphemy II" is a solid, blackened and hate-filled experience.
| | |
| --- | --- |
| Composition: | |
| Sounds: | |
| Production Quality: | |
| Concept: | |
| Packaging: | |
| Overall Rating: | |