Belialist – Belialist 3"CDR
28 September 2011
xdementia
No Comment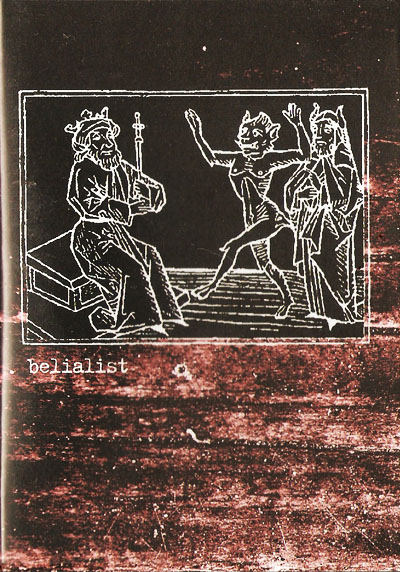 Belialist – Belialist 3″CDR
Combining the cold industrial ambience of Sewer Goddess with the intense analog warmth of Brutophilia will get you Belialist. This is their first recording for the collaboration and I believe it is still the only recording available. One can only imagine the insanity that arises from a sum of their parts, but I will do my best to describe it for you.
Influences here seem to range from Italian death industrial greats like N. and Morder Machine to more atmospheric projects like Megaptera and Inade. Ridged Teeth features perfect sounding humming drones combined with carefully pitched feedback bursts topped off by sickened affected, speaking vocals. Different shifts and variations are added for breadth and depth to form a truly compelling listen.
Violated Of The Last Principle has more in common with earlier Inade than with the aforementioned death industrial projects, though this still has a raw edge. Bloated & Sun-Blackened is really the icing on the cake here as it closes the release with a more intense and aggressively focused track featuring pummeling bass hits, distorted whispers and howling sirens coupled with a death drone of pure decay. Some on-point mid-range harmonic elements are added for effect, this time the track has more in common with Negru Voda or Kristoffer Nyströms Orkester.
An essential disc for any fan of death industrial. A great collaboration project from two amazing industrial artists. A must have.
| | |
| --- | --- |
| Composition: | |
| Sounds: | |
| Production Quality: | |
| Concept: | |
| Packaging: | |
| Overall Rating: | |