K2 – Abdominal Electricity CD
9 October 2011
xdementia
No Comment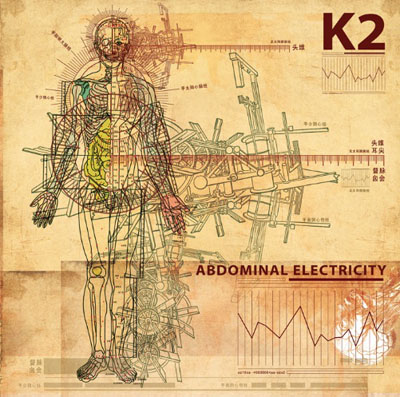 K2 – Abdominal Electricity CD
It's been a while since I've reviewed a proper harsh noise release and what better act to get my hands dirty with than the ever-impressive K2. Coming from the steady caring hands of Phage Tapes this CD features some impressive graphic design along with its translucent jewel box case featuring strange diagrams, anatomical and mechanical outlines mixed with subtle textures and smart text to create a truly professional looking endeavor.
The sounds are a great reflection of the smart and complex design with tons of fast, cut-up noise destruction. If you've heard K2's previous material you know what to expect, and this is simply deeper into the style, further defined, and polished to a sharp edge. The sounds range from intense synthesizer fuckery (especially in Bomb In My Stomach), to glassy assaults of textured noise, piercing feedback squeals and deconstructed bits of what may have once been some kind of music. There is a ton of start/stop gestures here, skipping around, sounds bleeding through other sounds, and all sorts of wacky attention deficit disorder-inducing nerdery to keep even the most jaded harsh noise fan on the edge of his seat.
Clocking in at just a few seconds less than an hour, with 4 tracks, and one track reaching almost 30 minutes this is a mammoth release but one that manages to pack everything and even the kitchen sink into its intense barrage of aggressive sounds. Expect all kinds of weird things but just expect them loud and ultra distorted. Another solid release from this now classic artist.
| | |
| --- | --- |
| Composition: | |
| Sounds: | |
| Production Quality: | |
| Concept: | |
| Packaging: | |
| Overall Rating: | |