Hunted Creatures – Fall 2010 DVD
10 October 2011
xdementia
No Comment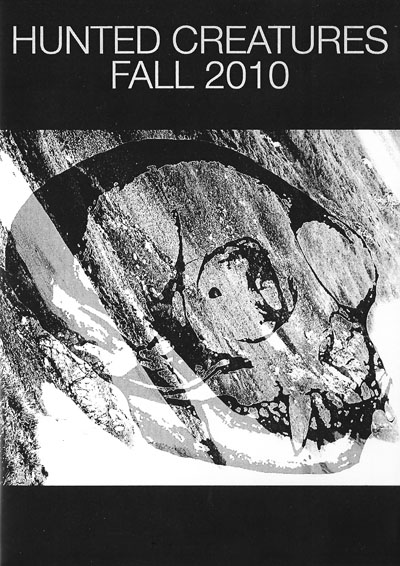 Hunted Creatures – Fall 2010 DVD
Here's a varied DVD from Pittsburgh's Hunted Creatures, a project which has been faithfully spearheaded by Ryan Emmet since it's inception; yet now frequently features collaborators and a rotating cast of members. The DVD comes in a clear slimline case which somehow seems to be a bit more professional than a regular DVD case. On popping this puppy into the DVD player it's nice that it has a full interactive menu that is tastefully designed.
The release features 4 short films with visuals created by different artists yet all audio performed and recorded by Hunted Creatures. The first is probably the most effective entitled Growth and Decay and spans roughly 10 minutes. The visuals are from Zack Auron, don't know who he is but that's a cool name so it's gotta count for something. The visuals start off almost as one of those spectrum analyzer plugins but it progresses effectively into a sort of abstract Into the Void kind of thing. The audio is a bit more subdued here with slowly bending harmonic drones which are quite peaceful and make for a great backdrop to the blurred textures. The short that follows this one up is called Raw Ecotone #1 and it features visuals by Ryan Emmett as well as the audio. It's less than 2 minutes but features some great industrial and electronic film manipulation with an accompanying score that pierces and throbs to create more energy.
A Place To Stay is the third video here and it is not only the most academic and experimental sounding, but also the noisiest! The visuals appear to mostly be footage of being on the road (this is a fall tour DVD afterall) and there are also some explosive abstract scenes here. I think the abstract scenes mesh a little better with the music as the flowing shots of windmill farms and power lines seem to be better suited for post-rock style stuff or hazy drones. But the track is a well composed mix of improvised synthesizers, strings, and musique concret with build-ups of distorted noise swelling and receding at certain times to form a dynamic flow. Worth mentioning are the striking visuals and sounds towards the end with beautifully saturated colors and disembodied voices. Raw Ecotone #2 closes the disc with a mix of footage from A Place To Stay and more of what was featured in Raw Ecotone #1. The audio here is noisy but with heavy texture like a manipulation of a thunderstorm. It's short and to the point which makes for a good bookend to the release.
This is a solid effort with a consistent vision and production to form an impressive D.I.Y. project. Definitely a nice example of experimental electronic music and visuals working together. Hunted Creatures continues to impress with this release.
| | |
| --- | --- |
| Composition: | |
| Sounds: | |
| Visuals: | |
| Production Quality: | |
| Concept: | |
| Packaging: | |
| Overall Rating: | |