Kazumoto Endo & Kazuma Kubota – Switches and Knobs CD
14 October 2011
xdementia
No Comment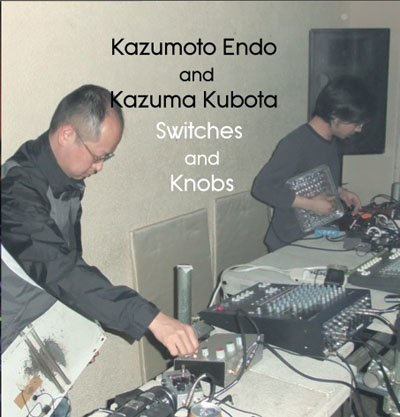 Kazumoto Endo & Kazuma Kubota – Switches and Knobs CD
Here's another pummeling harsh noise release from the Phage Tapes camp once again representing 3rd wave Japanese noise artists. Kazumoto Endo is an artist I am familiar with as delivering some of the best in cut-up harsh sounds with a start-stop technique that he employs, almost as if he is playing a wind instrument and must take a second to breath for more air. The name Kazuma Kubota is one that I am not familiar with yet it looks like he's already had a handful of releases.
The disc consists of two versions of the collaboration, first a studio version rounding off at 25 minutes, and a live version following which they've whittled down to 18 minutes. The studio version follows along nicely with Endo's earlier output and features some insane stop-motion destruction and total sonic annihilation. In the past I have experienced some of his work featuring more free-jazz and humor elements but this is all business – total harsh violence, tortured robots, banged up junk, and squealing feedback with blasts of distorted noise always interrupting. What Kazuma Kubota's contribution to this work is, I can't say. I can only assume that what he does must be similar to Endo's because this doesn't sound too far off from what I would expect.
The live track here is a bit redundant, not sounding too different but having a slightly less sharp live recording quality to it. Not very surprising at all but kind of nice that they included it on the disc for fans that like their noise extra-raw.
I'm left feeling the same way about this disc as I did about the K2 release; it's a solid effort by time-tested artist but doesn't really tread any new territory. Listening to this disc I feel like it's a trip back to 1999, but at the same time I'm perfectly ok with that.
| | |
| --- | --- |
| Composition: | |
| Sounds: | |
| Production Quality: | |
| Concept: | |
| Packaging: | |
| Overall Rating: | |