V/A – Anhedonia C20
15 October 2011
xdementia
No Comment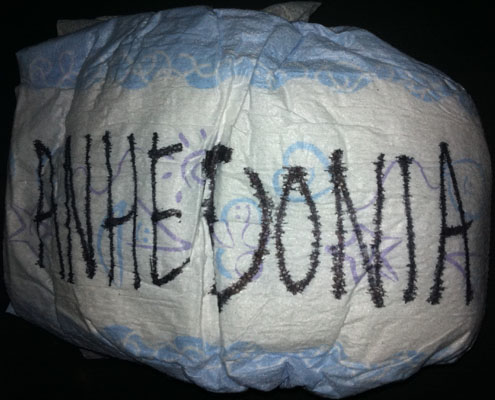 V/A – Anhedonia C20
Here's a hyper-active compilation that consists mostly of American artists from the Midwest but a few from New York as well. The packaging is pretty over-the-top coming packaged in a diaper with the title of the comp written in sharpy on it. It's definitely good for a laugh, as are a few of the other photos contained in the booklet, but you'll have to pick this puppy up to find out which ones. Obviously part of the aim was to have fun with this and Fusty Cunt has certainly succeeded in that. Anhedonia is like a twisted carnival ride through the who's who of American noise and industrial right now.
The tracks here are very fast – most I imagine clock in at around 30 seconds, probably the longest is 90 seconds. It is definitely a fun format and listening to this give me the same feeling as one might get riding the Gravitron. Trying to keep track of every act here is tough so I figured I'd just go with giving out compilation awards.
The New Kid: Fatale
Get up and dance: Alberich
The Professor: Diaphragm
Temper Tantrum: PTM
The Tough Guy: Custodian/Koufar (tie!)
Darker than the Night: Ten Little Piggies
The Troubled Poet: Nyodene D/Exploring Jezebel (tie!)
The Surprise: Harass
Class Clown: Teeny Bopper
and… wait for it…
Best Track: Skin Graft!
So this compilation turns out to be a blast in all forms, although perhaps the packaging is a little ridiculous it's definitely the most fun I've ever had being dragged through a gutter at 90 mph. All hail American noise!
| | |
| --- | --- |
| Composition: | |
| Sounds: | |
| Production Quality: | |
| Concept: | |
| Packaging: | |
| Overall Rating: | |