Drape Excrement & Söldnergeist – Black Rider CD
22 October 2011
xdementia
No Comment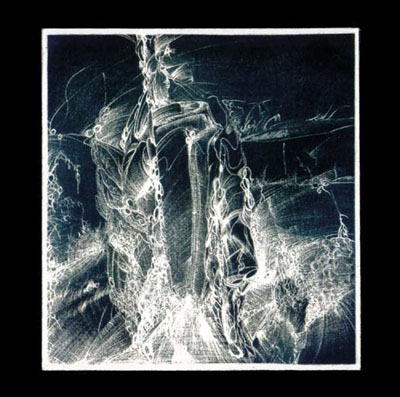 Drape Excrement & Söldnergeist – Black Rider CD
This is an oldie, but a goodie that I just got my hands on and simply have to write about it. What an impressive collaboration from these two excellent death industrial/dark ambient artists. First off, the packaging is simple with a classic dark feel featuring some great abstract artwork which bookends the release quite well.
Two shorter pieces kick things off featuring dense sound design, glassy textures and organ tones with even a very subtle glitch feel to I was a Fool which doesn't take away from the atmosphere at all but rather adds to it's depth. The bulk of the tracks clock in at 3-4 minutes here but the artists take time to follow up some excellent ideas in Four Dead People with sick reverberations forming into haunting melodies and the excellent follow-up Glaube! with its almost ethnic but yet still very electronic harmonic creaking bellows. However, Black Rider isn't all echoing dark ambience, with Public Opinion there are hints of something heavier lurking in the background and by the time Control and Power is in full-swing you find yourself in a miasma of grinding industrial cranks and gears accompanied by twisted whisperings on the fringe.
Four tracks close out the release, Other Voices adds some more excellent haunting drones yet is cut a little short, Eighty Percent and Econo-Mile feature some more excellent industrial atmosphere with throbbing and feedbacking synthesizers. And finally the title track Black Rider sees us out, but it is perhaps the most unique track here with 8-bit style arpeggios joined by heavily over driven bass pulses and a rhythmic kick drum. It may sound like a clusterfuck, but joined with the strange spoken samples of what sounds like the monotone chanting of a congregation it forms a strange, yet intriguing amalgamation of sounds.
Though I've been a long-time fan of both of these acts this collaboration caught me off guard on how great it turned out. With more of a clean sound, it still has some dirty elements in it. Yet the dense tracks and intense focus of the compositions render it effective in many different aspects. The tracks names keep my interest as the spoken samples seem to explore everything from economics, politics, to darker more atmospheric concepts. A great release and one that any fan of dark ambient and industrial should check out.
| | |
| --- | --- |
| Composition: | |
| Sounds: | |
| Production Quality: | |
| Concept: | |
| Packaging: | |
| Overall Rating: | |