Buildings & Mountains – Summer Gut String CDR
26 October 2011
xdementia
One Comment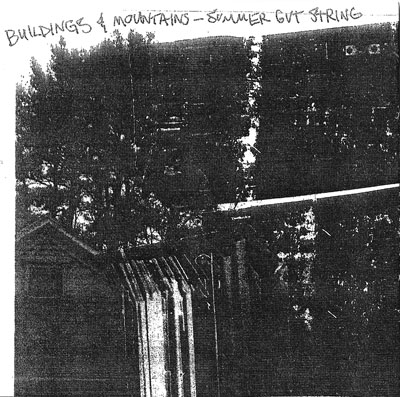 Buildings & Mountains – Summer Gut String CDR
Here's a hefty CDR with a menagerie of different sounds and styles. These tracks remind me a lot of the varied albums of Coil but there are moments of heavy experimentation, Muslimgauze-like beats, and even more melodic ambient pieces featured here.
It took a few listens to really fall in with what was going on here but after delving into it a few times I can safely say I find this release thoroughly enjoyable. The first few tracks lean more to the electro-Muslimgauze style with Suspended being the odd one out. Of course the track is also my favorite, with it's dark and ominous sound yet including a lot more musical characteristics. The track reminds me of Coil's Amethyst Deceivers.
All the tracks are quite engaging and some outright surprising. The sound design in Blood Dirt is especially appealing with it's metallic synth textures. There is an overall lo-fi vibe to Summer Gut String which is most apparently reflected in the packaging, but at the same time the production is crisp and clear – yet noisy and over driven when it needs to be. More experimental tracks like the meandering Part II – which features guitars, bubbling synths, and clattering kitchen-ware percussion – help to break up the more 4/4 beat oriented electro tracks.
This isn't noise or industrial yet it's definitely engaging and creative. Buildings & Mountains genre hops quite a bit on this CDR but it doesn't phase me and instead keeps an air of unpredictability about the sound. Certainly a talented artist that will have a broader appeal than just the noise scene. I could see this blowing up some day.
| | |
| --- | --- |
| Composition: | |
| Sounds: | |
| Production Quality: | |
| Concept: | |
| Packaging: | |
| Overall Rating: | |