Satori – Kanashibari LP
18 February 2010
xdementia
No Comment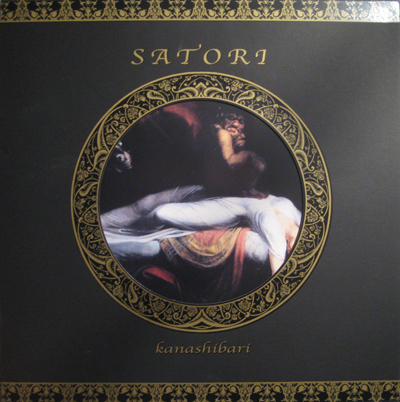 Satori – Kanashibari LP
Immediately noticeable is the gorgeous print and artwork that surrounds this this black disc of vinyl. Housed in a thick textured sleeve with glossy pattern trim and a hole in the center opening to a dramatic piece of artwork contained in the paper sleeve underneath the whole package appears as a relic of ages past if it weren't for the hand numbered list on the inside. Very beautifully realized, a nod most certainly goes to whoever designed and assembled these puppies. This is the first full-length work I've been exposed to by Satori after having been quite pleased and interested with their material from the split with Sutcliffe Jugend and Merzbow.
Kanashibari marks a bit of a different turn here though, where the split marked some solid death industrial atmospheres Kanashibari presents some extremely dark yet detailed ambient textures. The style reminds me a lot of Samhadi State era Inade because of the combination of what sounds like digital drones and tribal rhythms. In fact I might even almost say Kanashibari is a bit of a rip off of Inade's sound.
Roughly 5/7 of these tracks feature some kind of tribal drum beat where some instances are more successful then others. "Entity" probably excels in this the most with a dirge like bass drum melting into the blackened drones, as with most of these pieces it's quite constant throughout, but the atmosphere is absolutely suffocating with one of the more unique moments here. I actually feel that Satori mostly excels when they're not depending on the back up of these tribal drums. This is demonstrated in the first track "Hypnogogic State", a wispy and noisier build up drones eventually cutting out and making me think my stereo equipment was broken. Quite effective and different for an ambient album. Also worth mentioning is the detailed "Threshold Consciousness" a whirling barrage of doomed drones and haunting winds with a subtle synth pulse to keep things moving.
Overall Kanashibari is a solid LP but one that depends on some kind of generic tribal rhythms a little much for my taste. Luckily all the other elements are well executed and composed to still form an absolutely dark and dare I say, evil atmosphere that almost lives up to the creepy but classy packaging. If you enjoy more well produced ambient acts such as Inade, Land:Fire, or Moan I suggest you check out this LP if any still remain.
| | |
| --- | --- |
| Composition: | |
| Sounds: | |
| Production Quality: | |
| Concept: | |
| Packaging: | |
| Overall Rating: | |