Katchmere – Acid Test CDR
18 February 2010
xdementia
No Comment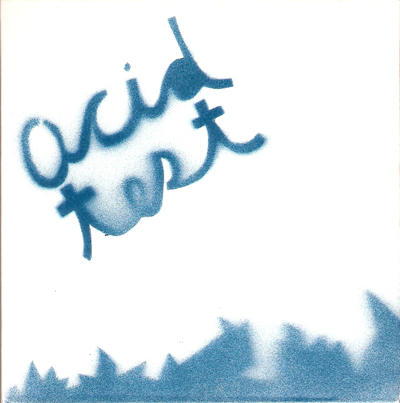 Katchmere – Acid Test CDR
Here's a great splash of spastic experimental electronics from a project I am once again unfamiliar with. Acid Test is about 30 minutes of seemingly random bursts of sound ranging from blasts of noise and found sound to the occaissional instrumental outburst. What starts as a more industrial tinged release with the minimal "Premonition" and more cryptic "Icicle" and "Your House is Next" eventually works into more up front jagged cut-up sound.
Worth mentioning here is the endearing handmade packaging utilizing the classic spray painted stencil artwork but also being very well put together and colorful while maintaining a consistent vision. It reflects the mixture of randomness and consistency that Katchmere captures well in Acid Test.
I personally find the first half of Acid Test to be the most effective with the contrasting ambience and harsh noise/industrial sounds working very well together and really presenting an original juxtaposition that blooms from the sleight of hand used in the editing. "Purified Mouth" is probably the most unpredictable track here with a blast of 6 second grindcore? Strange to hear it among this company, but it definitely marks a change in the overall direction of Acid Test as well as the tracks tend to lean more toward an improvisational sound following that little outburst. Predictably I am not so enamored to this sound as I was the first half that seems to have a bit more of a darker vibe and a little more thread holding it together.
This is a small gripe because there are a ton of really interesting sounds presented very effectively when combined with the packaging, concepts and crisp clear production of Acid Test it truly lives up to it's name and delivers some sounds that will either shake you out of your psychedelic state or draw you into it.
| | |
| --- | --- |
| Composition: | |
| Sounds: | |
| Production Quality: | |
| Concept: | |
| Packaging: | |
| Overall Rating: | |