Merzbow – Microkosmos Volume 1 LP
14 November 2011
xdementia
2 Comments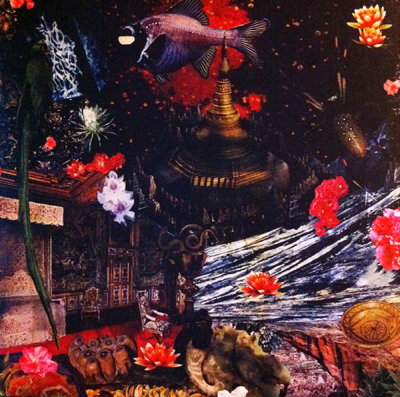 Merzbow – Microkosmos Volume 1 LP
All the years of reviewing and I'm not sure if I've even ever reviewed a Merzbow release. I think it's something I generally try to avoid because of all the baggage attached to such an endeavor. The debate on his proliferation, the analog-vs-digital debacle, his more accessible beat driven works, and finally his hard-edge stance on animal liberation. All of these topics I'd rather not tackle now but how can I ignore them when all those elements have had such an affect on his output?
I might guess that Microkosmos Volume 1 is yet another laptop and pedal noise release and it most certainly does feature a lot of drum loops. Everyone's exposure to Merzbow is so varied even making a reference to his own previous discography seems futile, but if I had to compare this to anything it might be Merzbeat or Sha Mo 3000. Basically this is like wall-noise with drum loops behind it. On side A the drum loops continue for the entirety of the piece completely unaffected. The noise careens over the slowly fading drum fuckery with no remorse, screaming white hot distortion, feedback squeals, and gritty synth attacks. Yet the noise is rather thin at the same time and remains segregated to a certain frequency bandwidth that doesn't really hit me where it needs to. Sometimes – most notably when the drums begin – the drum loops sound like bad rock demos or something, the beats are rather embarrassing.
Side B features less embarrassing drum loops, some are kind of in a grind-core type vein which mixes in with the noise much better. However, the formula is the same here which just makes for more disappointment. This is harsh material, and perhaps if this was an unknown artist's first release I would look at it in a different light, but when you hear this knowing it's the same person who created such countless landmark releases as Pulse Demon, Aqua Necromancer and others it is simply a testament to how low the bar has actually sunk.
It's unfortunate because I have to say this is probably one of the most gorgeous LPs I've seen in a long time. The full color collage work is stunning and the marble vinyl is impressive. I'm sure the news that Merzbow has released a mediocre record is not new to anyone, but it's still tough to review a release from the father of noise and not be really psyched about it.
| | |
| --- | --- |
| Composition: | |
| Sounds: | |
| Production Quality: | |
| Concept: | |
| Packaging: | |
| Overall Rating: | |