Dieter Müh & Mnem – Atomyriades CD
19 February 2010
xdementia
No Comment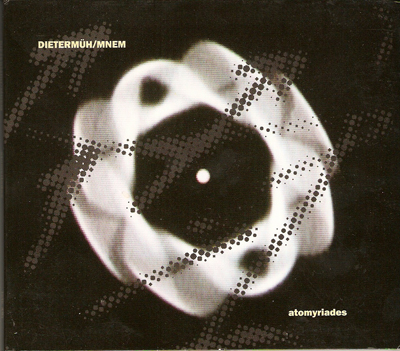 Dieter Müh & Mnem– Atomyriades CD
I was looking forward to hearing this for quite some time before I actually gave it a spin. I have been a Mnem fan for years and enjoy his lo-fi cut-up musique concrete weirdness. Dieter Müh is a name that rings some kind of familiarity bell, but not one to which I actually know the tune. What these two artists have cooked up in collaboration here is hefty album spanning industrial, ambient, and even some kind of electronica influences which can be found here and there. The latter of which is apparent in the understated opener "Galan Taetri".
Not being especially adept to science I can't quite explain what exactly Atomyriades, the title means. But I did gather – after a quick search on the net – that it has something to do with particle physics. Given the art and the packaging that seems to make perfect sense, but I have no idea what the artists have intended to purvey throughout the album. The electronica elements are gone after the introductory track and in their place drifting drones and shiny atmospheres amid clicking sound masses. The overall sound is one of this kind of organic synthesizers, and electronics but as if it was all recorded in a clay hut deep in the jungle.
Traveling deep into the depths of Atomyriades some industrial elements flair up in "Mundi Salvatorr" and "Kohota Babel". The former brings us deep into the mud and murk with lo-fi textures that finally build to a drifting wall of well-composed drones. Kohota Babel is another slightly noisier track combining some of the elements from Mundi Salvatorr with new textures. Delving back into the electronica influence "Nine Many" is introduced which almost reminds me of something off of Inade's "Samadhi State". Deep pulsating rhythms combined with floating bell and cymbal like sounds once again bring almost a tribal flavor to the sound here.
The album ends on a strong note with two solid tracks once again exploring the more ambient and industrial sides of the collaboration. Overall the album definitely has a unique atmosphere going on, but it's not one that is particularly memorable. That's ok though, because sometimes I want to put something on that makes me forget, takes me to another world, or at least deeper into a part of our own world that I haven't yet explored and Atomyriades does just that.
| | |
| --- | --- |
| Composition: | |
| Sounds: | |
| Production Quality: | |
| Concept: | |
| Packaging: | |
| Overall Rating: | |