Churner – Coffin Angel CDR
4 December 2011
xdementia
No Comment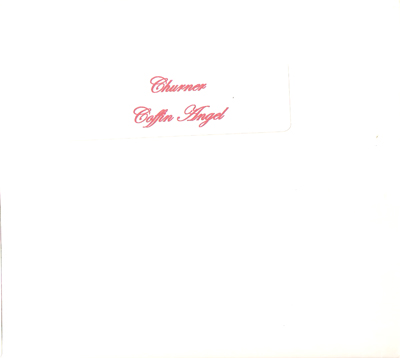 Churner – Coffin Angel CDR
Here is my first exposure to the already prolific artist Churner. He seems to spew depraved power electronics noise from almost every orifice with this simple CDR release. The packaging is ultra minimal using simple text and stickers on a stock digipak.
The album kicks off with what is probably the most creative track here, a lonely organ tone eventually working itself into a frenzy of obliterating distortion. The rest of the album features sickened power electronics and harsh noise with screamed and distorted vocals rising and falling with the tides of the sounds.
The tracks are quite dynamic and cover a lot of ground, which always keeps things interesting. There is a nice metallic-feedback quality to most of these and although they are rather free form Churner knows when to stop and focus on a delay loop or heavy tone. The real drawback to Coffin Angel though is the rather thin production which somehow prevents the sound from being as effective as it could be.
Coffin Angel is an effort that is somewhat monotone, not unlike it's minimalist artwork. But there is definitely promise here for something more. The sounds of Churner remind me of a lesser version of Climax Denial but that is not at all a bad thing. For those of you who are interested in possible up-and-comers check this out.
| | |
| --- | --- |
| Composition: | |
| Sounds: | |
| Production Quality: | |
| Concept: | |
| Packaging: | |
| Overall Rating: | |