Nxfxtxex – Press Play And Shuffle 3"CDR
5 December 2011
tankakern
One Comment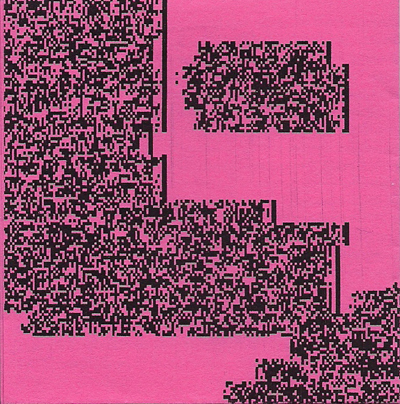 Nxfxtxex – Press Play And Shuffle 3″CDR
Shit Music For Shit People
Nxfxtxex, or Not For Trendy Ears, is a Danish noise project that, from what I can determine based on the material found on Press Play And Shuffle, stays more on the absurd side of the noise genre than anything. Consisting of 99 tracks within about a twenty minute time span, I'm reminded of Sissy Spacek's self titled album in terms of format but, in terms of concept, Agoraphobic Nosebleed's Altered States of America is what comes to mind more when I listen to Press Play And Shuffle. Even though Nxfxtxex doesn't really tread any grindcore territory here, the similarity between the albums lies in the fact that Press Play And Shuffle never really sticks to one sound for very long. This album is constantly shifting styles between tracks to an utterly extreme degree. From HNW to power electronics, from gabber to industrial and even ambient, Press Play And Shuffle does very little to present the listener with the same thing twice, even though all of the material presented here is unabashedly harsh.
The noise here is short and fast; one is not meant to concentrate too long on what is being presented here. The assault on the senses is constant and forthright. From slamming rhythms to high frequency squalls, these tracks are all scathing in one way or another. The atmosphere throughout stays weird and if any message were to be had here, it's lost completely in the sound (though that may be the point). My first listen of Press Play And Shuffle was straight through, but afterwards I went back and actually listened for a while on shuffle. It leaves me wondering if perhaps the title is meant to be taken literally. If one were to continue shuffling this album, the sounds are diverse enough that one's attention could be held for a span beyond the length of the album.
Overall, I feel like Press Play And Shuffle is an engaging if not violating album that does more than it's part to typify the digital era of noise music. Even leaving the title out of it, most of the noise here sounds very digital; I would not be surprised if most of it was culled from digital, databent sources. This may not appeal to all, but fans of noise as an aggressive art form will enjoy these short pieces that don't require much of an attention span to appreciate.
| | |
| --- | --- |
| Composition: | |
| Sounds: | |
| Production Quality: | |
| Concept: | |
| Packaging: | |
| Overall Rating: | |