Gnaw Their Tongues – L'Arrivée De La Terne Mort Triomphante CD
13 December 2011
xdementia
No Comment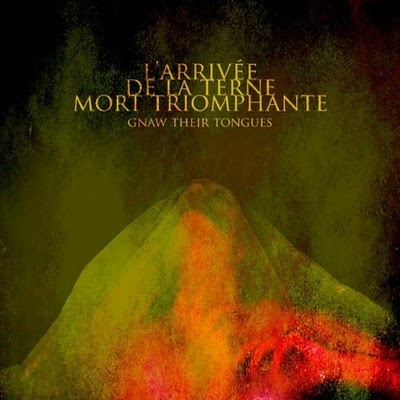 Gnaw Their Tongues – L'Arrivée De La Terne Mort Triomphante CD
Now my French may be a little rusty but I do believe that this album explores a few concepts centered around death. Death triumphant, songs of death, white death, and any other imaginable types of death that one could possibly want. The concept of death is classicly represented on L'Arrivée De La Terne Mort Triomphante through somber strings, bombastic chords, and valiant rhythms that fall together like a gorgeous Gothic symphony. This is neo-classical through and through.
Heavy, plodding percussion is accented by horn like dirges, bellowing toms, and floating strings. This orchestra of the dead is of course accented by bastardized operatic vocals that show themselves in the form of black metal style croaks and groans buried in the mix. It is truly and opera of the damned. L'Arrivée De La Terne Mort Triomphante will mostly appeal to those who enjoy militaristic industrial, neo-classical, and black metal side projects. The style can be most easily compared to such projects like Karljalan Sissit, Sophia, and The Protagonist.
The album tends to blur together a bit but keeps such a dismal and epic feel that is obviously intended and exploited. There are a few very memorable moments that come to the forefront with the first being the plodding march of the opener and title track. Also incredible is the emergence of the climactic melody in La Mort Dans Toute Son Ineffable Grandeur accented by hollow ringing bells and swelling horns. Finally the intense surge of female vocals in the closing track Le Trône Blanc De La Mort is just so overwhelming and beautiful while at the same time sounding so evil and foreboding.
Luckily the production here is quite nice. Everything echoing in shimmering reverb to form an enormous sound. The reverb protects the instruments from sounding fake or synthesized (not even sure if they are or not) but it also bathes the sound in a blurry fuzz that prevents the harmonies and melodies from really being able to soar. So the production falls into a grey area, not really supporting the sounds as much as it should.
Lastly, the disc is delivered in an incredible looking digipak with some gorgeous and colorful abstract art that reflects the sound perfectly. This release just feels so massive and overwhelming that it took me at least 3 attempts to review it until I finally was able to follow through. An excellent album of epic proportions. Beautiful work.
| | |
| --- | --- |
| Composition: | |
| Sounds: | |
| Production Quality: | |
| Concept: | |
| Packaging: | |
| Overall Rating: | |