Flesh Coffin – Folie à Deux CDR
21 December 2011
xdementia
No Comment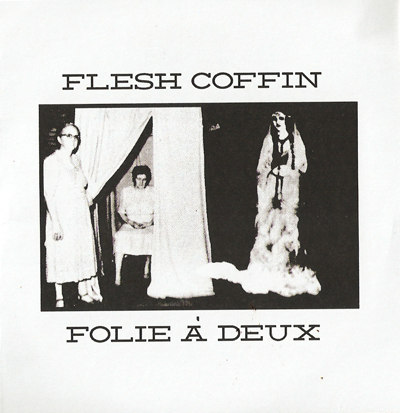 Flesh Coffin – Folie à Deux CDR
Andreas Brandal is the man behind the quickly rising Flesh Coffin moniker and he is taking the noise world by storm. Offering strange and unusual sounds, Flesh Coffin is easily carving out his own niche in style and sound while sticking to a classic dark and gritty aesthetic. This is what I truly love about noise.
Folie à Deux consists of two long tracks to form almost 40 minutes worth of seething distorted atmospheres, harsh noise bursts, odd textures, and sometimes almost academic interludes. The sounds are like nothing I've ever heard before morphing from reverberated ambient noise to mind bending industrial movements.
Perhaps the only part of Folie à Deux that feels a little "off" are the abrupt changes that take place in both tracks. There are a lot of sounds jammed into each track and different movements, so given the length it becomes rather easy to forget where you've been. However, you are never quite prepared for where you are going either, which tends to keep the listener on edge which I'm sure is something Brandal is attempting to accomplish.
If you have been exposed to Flesh Coffin before you can expect more excellent output with even more subtle evolution to the sound and style. If your ears haven't yet been graced by these seething sounds, my suggestion is you seek out your attrition immediately.
| | |
| --- | --- |
| Composition: | |
| Sounds: | |
| Production Quality: | |
| Concept: | |
| Packaging: | |
| Overall Rating: | |