Nyodene D – Every Knee Shall Bow CD
29 December 2011
xdementia
No Comment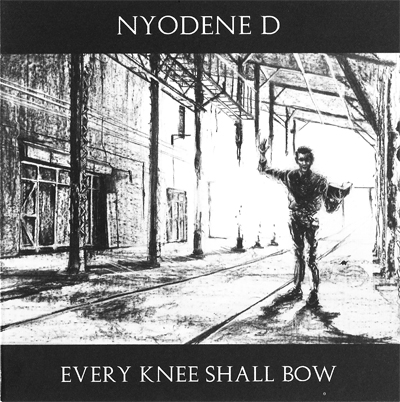 Nyodene D – Every Knee Shall Bow CD
Every Knee Shall Bow marks the first proper CD release for this newer death industrial/power electronics project hailing from Ohio. So far the releases I've been exposed to from Nyodene D have been of solid stature and Every Knee Shall Bow follows suit with what has become expected from the artist.
There are 4 long tracks – each clocking in at over 10 minutes – featured on the disc. They mostly consist of low synthesized drones, industrial loops and heavily delayed screaming vocals. Harbinger is one of the best composed tracks here because although it deals with minimal elements just as the others do, they are edited with more tact and subtlety than the other tracks. The drones start things off then the rhythmic industrial elements slowly fade in and finally you are met with the intense barrage of noise and screams.
Against the Age of Kali is centered around a repeated vocal sample with some almost harmonic synth work in the background. The track is soon overcome with scrap metal manipulation, but I find myself tiring of the loops after about 5 minutes before the track ends, despite the quality of the sounds the repetitiveness just seems to be too prolonged. It's an issue in the title track as well. Even though it's some heavy-as-hell industrial loops it just goes on for too long so as to become rather tiresome to listen to about half way through the track. Luckily things are changed up before the end and it gives us a moment of respite before the next track kicks in. There Will Come Soft Rains is the final chapter here and it closes out the disc with intensity. Building scrap junk loops arise from dark harmonic drones and are once again joined by scathing vocal attacks.
One thing that separates Nyodene D from the rest of the pack of power electronics artists is the heavy focus on concept. The booklet reveals a detailed layout of lyrics with overstated titles and of course the illustration on the cover reveals some charged lyrical and emotional content which gives this material depth and intensity that it might otherwise be missing.
If you have been exposed to Nyodene D's work in the past you can expect more polishing of his sound on Every Knee Shall Bow. There's not much new ground that is tread here, which I'm guessing is intent, and it does lead to a rather colorless and bleak journey (which may be positive or negative depending on your tastes). Certainly one for the power electronic and industrial music purists!
| | |
| --- | --- |
| Composition: | |
| Sounds: | |
| Production Quality: | |
| Concept: | |
| Packaging: | |
| Overall Rating: | |