Penetration Camp/Slicing Grandpa – Four Flies on Grey Vinyl 7″
2 January 2012
xdementia
No Comment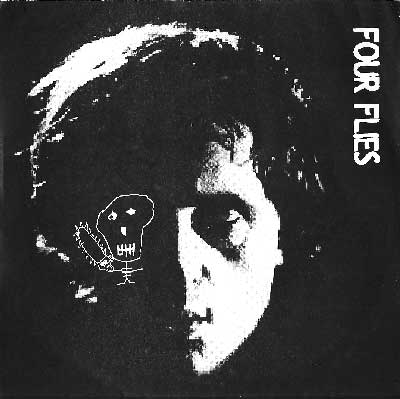 Penetration Camp/Slicing Grandpa – Four Flies on Grey Vinyl 7″
Drug-Front Productions/Strain Theory/Scatological Liberation Front
This release has me really confused in more ways then one. It took a while to actually figure out that the artists are Penetration Camp and Slicing Grandpa because all it says is "Four Flies" on both covers. It's not really clear what record label actually released this, or even what side each artist is on (luckily it says in the description on the website). I was also curious if this had anything to do with the old noise project Four Flies on Grey Velvet but it seems there is no relation. In addition there is not mention of the full title – Four Flies on Grey Vinyl – anywhere on the record, I found that through the website as well.
Well, the important part here is the sound I suppose. Side A features the sounds of Slicing Grandpa presenting a track entitled Argento which apparently is the same name of the other artist's track here as well. The track sounds like a slowed-down punk sound with noise layers on top, droning and screeching. A pitched-down voice plays along and forms a slow-motion atmosphere. Nothing that really appeals to me here much.
Penetration Camp's rendition of Argento is much more alluring. With heavy industrial explositions and carefully layered noise slabs he builds the tension. With the strange music box-like drifting melodies in the background the atmosphere is created. The end features a nice breakdown of sounds, machine like and experimental after an enormous swell of heavy industrial distortion. Very nice work.
A split with split personalities, nothing new. The work of Penetration Camp definitely interests me, where the work of Slicing Grandpa seems less than inspired. Definitely one for the curious among us.
| | |
| --- | --- |
| Composition: | |
| Sounds: | |
| Production Quality: | |
| Concept: | |
| Packaging: | |
| Overall Rating: | |