Winters In Osaka – Mutual Collapse CD
5 January 2012
xdementia
No Comment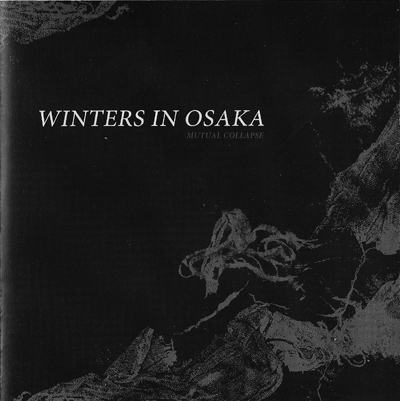 Winters In Osaka – Mutual Collapse CD
W.K.F.E.W.R.
I immediately found this release rather odd since my previous experiences with Winters In Osaka had always featured them manifesting with a drone based sound. However, with Mutual Collapse the harsh is brought in various formations.
The first three tracks are a mixture of harsh noise and power electronics with vocals, throbbing distortion, and walls of intense sound. The most effective of the three is most definitely Baby Pop with it's great crunchy bass attacks and screeching highs. The least effective is the 5 minute Toll which is just airy pushing noise and washed-out vocals.
The 9 minute Waterweight takes us into more of what I expected from WIO. Clicking experimental sounds weigh-in over airy ambient field recordings with touches of industrial seeping in by the end. Strangely enough, the title track is the odd one out here. It features a completely different quality of recording and mixes drums with noise to form more of a grindcore style track. It's not bad on it's own but just doesn't seem to mix in with the album at all.
After a quick blast of harshness that is Voyeur Pt. 2 the mammoth closing track Stairwell represents what WIO does best. Long drone ambience with a good dosage of field recordings. It's somber and contemplative while creating a unique atmosphere.
Mutual Collapse is a disc that is all over the place and can't really seem to find it's focus. Harsh vs. soft, aggressive vs. contemplative, and good vs. bad. The release tends to be too inconsistent for my tastes.
| | |
| --- | --- |
| Composition: | |
| Sounds: | |
| Production Quality: | |
| Concept: | |
| Packaging: | |
| Overall Rating: | |