Vice Wears Black Hose – Part 2 CDR
8 January 2012
xdementia
No Comment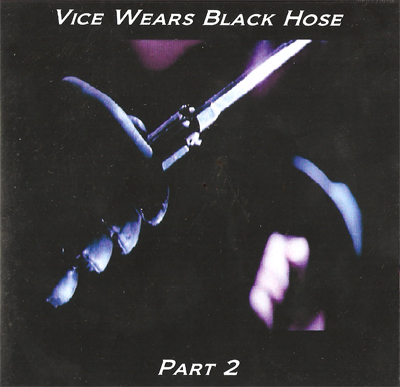 Vice Wears Black Hose – Part 2 CDR
Well, it's 2012 and wall noise is still here, perhaps going stronger than ever. Although I can't say I like it much more today than I did when the it first graced my ears I think it's at least time for me to reevaluate my rating criteria of it, if not try to appreciate it while in the moment of listening. More importantly Vice Wears Black Hose is the wall noise supergroup of Richard Ramirez (Black Leather Jesus) and Sam Mckinlay (The Rita, BT.HN) and what they deliver here is another heavy slab of slowly alternating wall noise.
One thing I enjoy about the disc is the fade in from nothingness. First you hear a little bass tone and finally the noise is full-on, not overtly harsh, but filling dead noise into your head with a touch of aggression. Eventually they decide to drop the bass out a few times, cut sharp to provide an odd effect. Lost within the labyrinthine layers of the track there are few falters, where the sound may have just dropped for a second, perhaps a faulty cable, perhaps a twist of a knob but these moments always mark the more interesting sections that make returning to the wall all that much more intense..
Although perhaps I still don't find myself enamored with wall noise, or particularly interested in it I can at least appreciate what these artists have offered here. It's a stasis that has been achieved through some kind of strife, like the artist who finally finds solace, not exactly in the way that he thought he would.
| | |
| --- | --- |
| Composition: | |
| Sounds: | |
| Production Quality: | |
| Concept: | |
| Packaging: | |
| Overall Rating: | |