Gnawed – Patience Is Waste C40
13 January 2012
tankakern
No Comment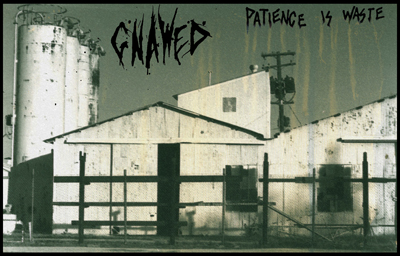 Gnawed – Patience Is Waste C40
Taking a much more restrained approach this time around, Gnawed's "Patience Is Waste" retains a lot of the heaviness of 2011's "Purge", but this time in a much slower, more deliberate fashion. There is very little blazing harshness found on this tape; most of the atmosphere here evolves slowly and, in a fashion almost rendering the title ironic, patiently.
The title is strange on this release; the biggest factor that comes back to me time and time again for this tape is patience. The drones found here take on a much more personal edge in comparison to "Purge"; scrap metal abuse finds its way into simplistic drones that take a much more subtle approach. There are a lot of details in the sound, but they require careful listening to pick out. The tone here is much less blatant and requires the listener to really get immersed in the environment this tape presents. The textures are far less swirling and violating as they are fixed and brooding.  The sections are steady and repetitive. Gnawed further establishes a signature drudging sound for himself on this tape.
The scrap metal sounds take on the industrial aspect at its basest. Scrapes and scratches present some variation to the balanced synth sounds; clanging chains and metallic clanks lend a hand to the sinister aspect found lurking beneath the sound here. Everything seems impending, every sound seems to create a sort of foreboding and hateful space.
"Patience Is Waste" presents a great follow-up to "Purge". Much more simplistic, much more mature sounding, this tape is truly menacing.
| | |
| --- | --- |
| Composition: | |
| Sounds: | |
| Production Quality: | |
| Concept: | |
| Packaging: | |
| Overall Rating: | |