Crank Sturgeon – Mashacoustic CD
20 January 2012
xdementia
3 Comments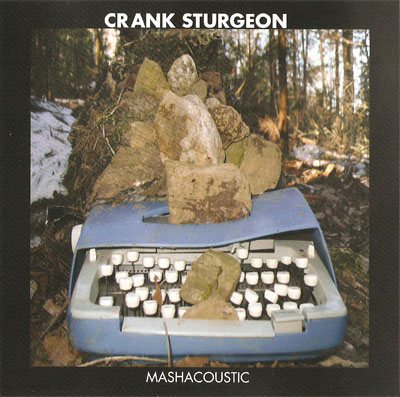 Crank Sturgeon – Mashacoustic CD
Crank Sturgeon is an old school experimental/weird noise act that's been in the game for as long as I can remember. He is the true embodiment of "weird" and Mashacoustic stays true to the aesthetic Crank has been carving out for some time. Floor Gans – the first track – easily sets the tone for the oddness that is about to grace your ears with a purely spoken word affair: "The bundle wine of basketeers weeeeeening their snipped bits of pant leg and beard sure beat the layover in the dusky dirt of migraine citadels."
Crank seems overjoyed to bring the spastic lo-fi noise that follows in both Lur Stand Hels Ptl Ub Ber and Tuck N Frock / Mashacoustic two epic tracks that mix crunchy distortion with wet mouth noises, things falling apart, circuit bent fuckery, and screeching feedback. Following with And His Last Chup and Rouma Ouk Tolp Crank turns to more experimental sounds. Where Chup is more acoustic noise with clanging instruments, random percussion and guitar wankery, Rouma presents lighter, more improvisational noise style electronics.
By the time Broom.Nojz rolls around, Crank is back to the seering and destructive experimental noise barrage that was employed earlier in Mashacoustic. Worth mentioning is that there are some really great textures of crunching, scraping and foley sounds here that I can't think of as being matched by any other artist. The sounds are close up and in your face yet have a ton of texture and depth to form a truly unique sound. Closing the album is Forty Candles; Live @ The Apohadion 2.26.11 which follows along nicely with the rest the material here. At a mere 8 minutes it doesn't wear thin and still leaves the listener wanting for more. One absolutely great thing about the track is the crowd and performer noise that happens – crazy screams, laughing, people yelling, cut up vocals, explanations about the piece from Crank and lots of audience participation really captures Cranks performance style – coming from someone who's seen him countless times.
Mashacoustic captures Crank Sturgeon's aesthetic perfectly and comes off as a refined chapter in his sound. The live track is the perfect closer, while the production on the previous tracks although lo-fi in their aesthetic are captured with breathtaking clarity and precision. This is free improv experimental noise through and through but I maintain it's important for anyone who is looking to create or experience a multitude of similar noise styles to check this out.
| | |
| --- | --- |
| Composition: | |
| Sounds: | |
| Production Quality: | |
| Concept: | |
| Packaging: | |
| Overall Rating: | |