Jason Crumer – First Two Records on CD CD
28 January 2012
xdementia
No Comment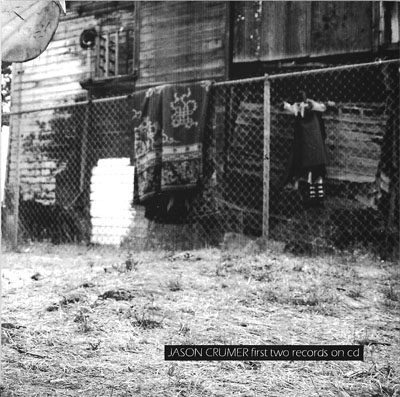 Jason Crumer – First Two Records on CD CD
Here is a mammoth release from Finland's Freak Animal Productions representing this American artist. Jason Crumer started off as Aluminum Noise and had several great releases under that moniker until he started releasing music as American Band after releasing an ambient album as Amazing Grace. Needless to say he has found his sound now under his own name, and I don't see that changing anytime soon.
The CD contains the first two LPs that Jason Crumer released: Future With No Chance – which was released on RRR in 2007 – and Burning In Hell – which was released by Harsh Head Rituals/ PAS-83 Productions in 2008. These are both excellent albums that Freak Animal is completely justified in re-releasing and it's great to have it on an "archival format" such as CD in all it's digital glory.
Future With No Chance LP is up first and features a potent mixture of lo-fi yet dynamic harsh noise, elements of power electronics, slowly building swells of wall noise drone, cut-up insanity and even carefully edited almost, electroacoustic passages. It's the perfect formula for a great noise album and it delivers. This is material I have never heard before I am absolutely impressed by. Part of what makes Jason Crumer's sound so successful is his ability to provide intense levels of movement in his tracks. Want is a great example where blaring walls of harsh sound slowly build in volume and intensity until they finally break down into a chugging blown-out industrial loop.
Where Future With No Chance is 8 tracks alternating between very short power electronics interludes and longer harsh noise compositions, Burning in Hell is merely 2 long tracks each clocking in at almost 15 minutes. Side A presents a droning harsh noise fest of heavy churning hellish distortion perfectly colliding into white hot cores of burning sound. Side B slowly fades in and before you know it the fiery pain is once again in full effect with totally destructive sounds bashing you from every angle. There are some excellent breaks in the sound with the first being a huge interlude accented by heavy industrial junk noise. The last is a slight reemergence of metallic shifts leading to a 3 minute outtro of heavy wall noise. A perfect way to end the release.
I'm really psyched that this CD was released because I had never heard these records before although I was already a huge fan of the Crumer material I own. This is a great match up of material and is a testament to Crumer's incredible ability, thoughtfulness and even playfulness with sound, although it's almost always thickly veiled in aggression and distortion.
| | |
| --- | --- |
| Composition: | |
| Sounds: | |
| Production Quality: | |
| Concept: | |
| Packaging: | |
| Overall Rating: | |