Breaking Wheel – Poise/Ache CDR
31 January 2012
xdementia
No Comment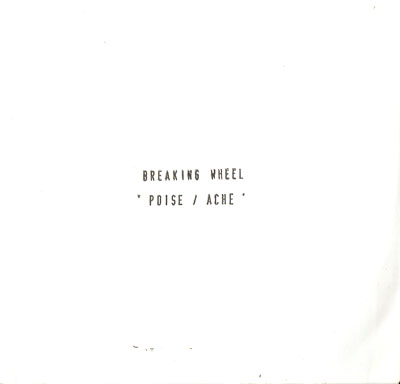 Breaking Wheel – Poise/Ache CDR
According to the label this is the only recorded statement of this group whose future is decidedly uncertain. The death seems a bit premature as I've never even heard the name Breaking Wheel before, and although the sounds may come off as just a touch generic there is certainly some promise within.
Only 3 tracks grace this little EP that features understated yet classy packaging. Plain white with sparse text provides nothing more than the absolute essential information. The track Poise features crunchy and heavily distorted power electronics with a touch of delay. There may be vocals somewhere in the mix here, but they are buried if they're there at all. Ache is possibly my favorite track here with high pitched drones and small crackling it's running time is a whopping 2 minutes. I could really have listened to this for another 10 minutes though.
The closer Habit is back to the noisier pe realm of things, this time with a bit more squiggle to the synths and clearer vocals. Still remaining very lo-fi here. But it's well composed, dense, and dynamic.
Once again, not a bad effort at all and it would be too bad if this project died just as it was getting started. One can only hope.
| | |
| --- | --- |
| Composition: | |
| Sounds: | |
| Production Quality: | |
| Concept: | |
| Packaging: | |
| Overall Rating: | |